I have to admit something: I have a Google Alert for Jessica Mulroney.
In my lifetime, I have set up very few Google Alerts (which are automatic e-mails that tell you when a particular name or term is mentioned anywhere on the Internet). But I set one up for Mulroney after Meghan Markle got married — in case you forgot, Mulroney is the Duchess of Sussex's BFF, and she and her kids played a huge role in the royal wedding — and haven't looked back since. I also started following Mulroney on Instagram.
Why am I telling you this? Well, yesterday, thanks to my alert, I learned that Mulroney had "irked royal fans" as she "appeared to dismiss the Duchess of Cambridge," AKA Kate Middleton.
I saw the story, read it, and shared in our Slack channel, calling it one of the dumbest stories I've seen: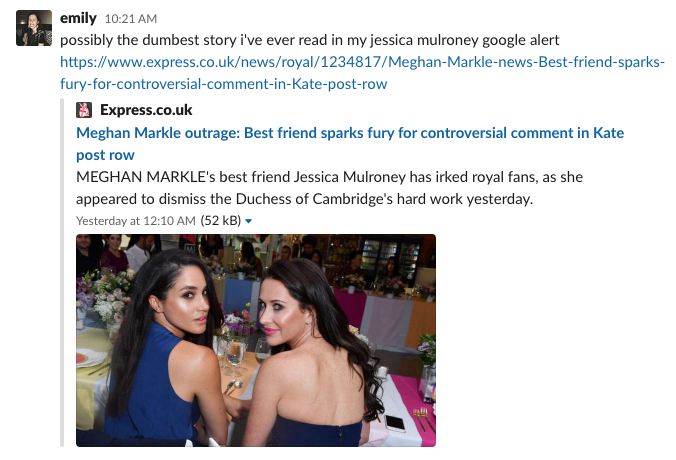 Essentially, what happened was that British tabloids picked up a comment that Mulroney posted to her Instagram story. It said this: "Pretty pictures are pretty pictures. Strive to use your platform for good and spread stories of incredible people striving to make this world a better place."
So what's the problem? Well, apparently, many people online took Mulroney's words as a slight at Kate. Why? Well, on Monday, which was International Holocaust Memorial Day, Kate had posted portraits she took of Holocaust survivors. (Which, by the way, were incredible.)
Just how commenters interpreted this makes very little sense to us here at Kveller. Why would Mulroney be throwing shade at Kate? What does she have to gain? Do extremely high-profile women, who may or may not be at odds with one another, really need their BFF to do their bidding for them? I can't say with absolute certainty, but I think logic points us to the answer: no.
Plus, a crucial fact was left out of all the flak Mulroney got: She is a Jewish woman. There's just no way she would be dunking on someone sharing portraits of Holocaust survivors and calling them "pretty pictures."
Mulroney didn't immediately respond, but her husband, Ben, did.
Yesterday, my wife @jessicamulroney posted a call on her IG to raise funds/awareness for the families of the victims of Flight 752. It was accompanied by an IG story that conveyed that actions trump thoughts & prayers. Shame on anyone who has tried to twist it into anything else.

— Ben Mulroney (@BenMulroney) January 28, 2020
"Shame on anyone who has tried to twist it into anything else." Jess then retweeted Ben, and liked these two posts: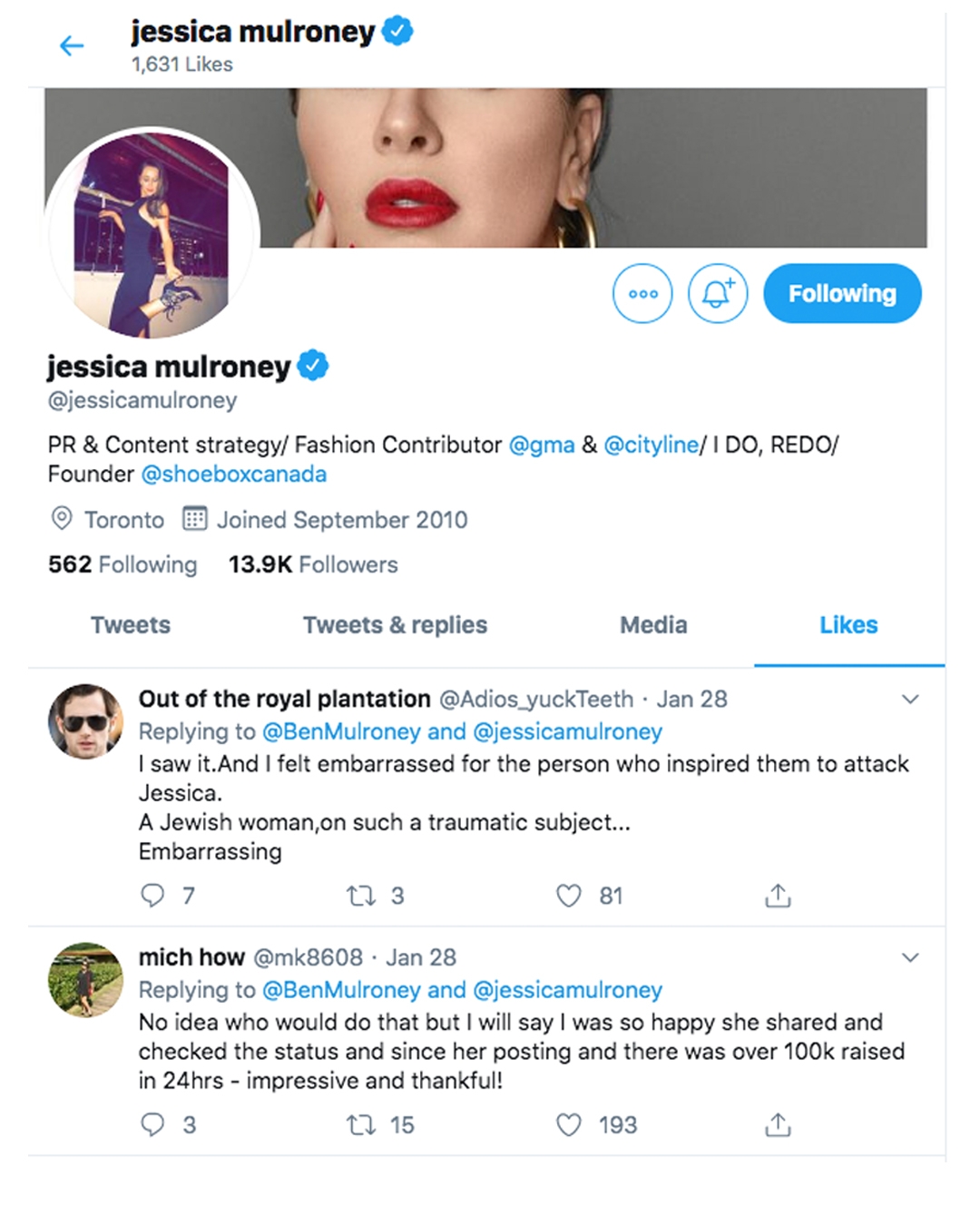 And that's the issue with covering Mulroney right now — and, again, while we can't say this with absolute certainty, that's probably also the issue with being Mulroney right now. Whatever she does, online and IRL, is now refracted through the lens of her über famous best friend.
Mulroney, lest we forget, is a busy mom and professional stylist. She has been hard at work filming a new Netflix show, I Do, Redo, styling Mindy Kaling, and fundraising for Canada Strong Campaign, which was set up to help victims of Flight 752. But tabloids had to transform Mulroney's words into a fight with Kate (which, by proxy, means a fight between Kate and Meghan).
And we're guilty of framing coverage of Mulroney similarly here at Kveller, too. We wrote about how, during the royal drama a few weeks ago, baby Archie stayed with Mulroney and her family in Toronto. (OK, to be fair, that was an actual news story!) We guessed as to whether or not she would be Archie's godmother. In a post about Mulroney wishing her followers "Happy Passover," we still called her Meghan Markle's Jewish BFF.
Of course, some of that is just the way the media works — would people be interested in Mulroney if she wasn't closely connected to one of the most famous women on the planet? Possibly… but not to the extent they are today. And, as for this particular "story," we decided to pass on it, because why give attention to nonsense?!
That is, until Mulroney herself took to Instagram to speak out. In a post — which she has since deleted — she wrote: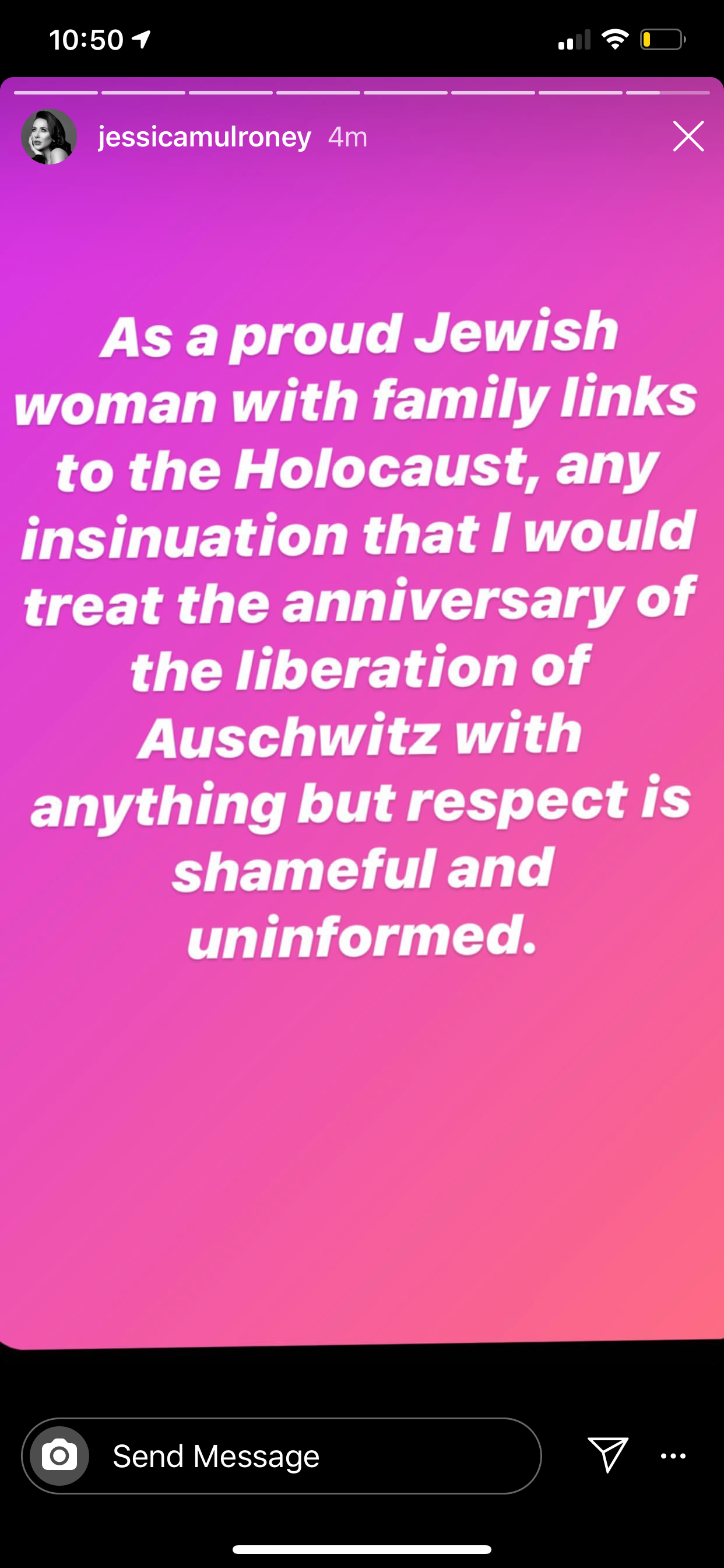 If you can't read that screenshot, it says: "As a proud Jewish woman with family links to the Holocaust, any insinuation that I would treat the anniversary of the liberation of Auschwitz with anything but respect is shameful and uniformed."
I am not sure why she deleted it. I took the screenshot before I went to sleep, and by the time I woke up, it was gone.
But when I saw her post, I felt sad. Mulroney is a proud Jewish woman. She's a mom of three. She has been an exceptionally good friend to her pal who has been thrust into a very unforgiving (and racist) royal spotlight. All this attention cannot be easy for Mulroney and her family.
Imagine how much better this world would be if we assumed good intentions from the people around us — at home, in our workplaces, and those we interact with online. How about everyone just take a step back, and let Mulroney live her life, and not assume that everything she does is commentary on the royal family ("senior members" or otherwise)?
More to the point, how about, moving forward, we don't make the assumption that a Jewish woman is shaming someone for posting photos of Holocaust survivors? That's all. Thanks!
Header Image of Jessica Mulroney by Raymond Hall / Contributor / Getty Images.