I regret to say that I was in my late 20s when I finally watched "The History of the World: Part I." I truly can't believe it took me that long — all the years I deprived myself of the rolling laughter that comes along with the experience of watching the classic 1981 Mel Brooks film.
I vow not to make the same mistake with "History of the World: Part II," the long awaited sequel that will be released on Hulu next month as an eight-episode, four-night TV extravaganza. I will binge it the moment I can, and not a second later.
Now, "History of the World: Part I" was very Jewish. There's, of course, the famous "Jews In Space" song, which we all fondly reminisced about in 2021 when congresswoman Marjorie Taylor Greene shared an unhinged conspiracy theory about a Jewish space laser. There's Mel Brooks as a very clumsy Moses, with the 10 commandments, talking to God — who is voiced by Jewish legend Carl Reiner (may his memory be a blessing). And of course, there's the Spanish Inquisition.
But, much to my delight, it looks like the next chapter of "The History of the World" will be even more Jewish.
The two-minute trailer released this week is chock full of Jewish moments. There's Seth Rogen as Noah, who is obsessed with getting two of every breed of dog on his ark (he can't help but sneak in an extra pug!). There's Jewish dad (and jaddy) Taika Waititi as Sigmund Freud, who indulges in a little Freudian slip when he invites viewers to join his master-bates instead of masterclass (hehehe).
But perhaps most importantly, there are the hysterical (and Jewish!) Ike Barinholtz, Sarah Silverman and Nick Kroll, wearing Star Trek-ian outfits adorned with Jewish star pins and flanked by a gigantic dreidel (JEWS. IN. SPACE?) in what we can only hope is an actual Jewish space laser. Barinholtz and Kroll are also signed on as producers, along with the fabulous Wanda Sykes, who you can see on the spaceship with them in this scene (she also plays Shirley Chisholm and Harriet Tubman).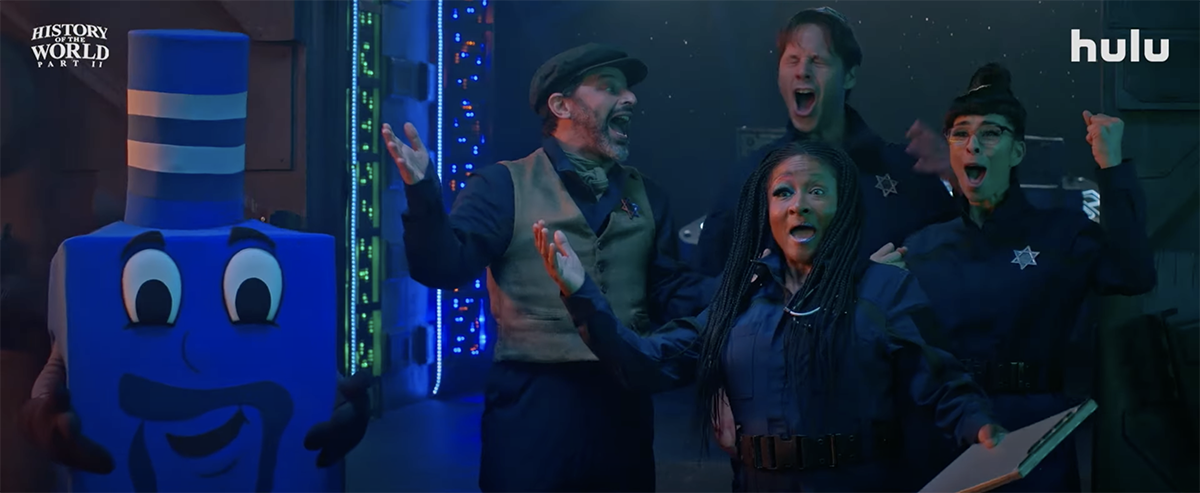 Some other fun Jewish moments from the trailer include a scene in which a crowd is eating matzah on a stick and a "Fiddler"-esque dance.
Nick Kroll also plays a very douche-y Judas in the Jesus scenes of the movie, which should be interesting (and also funny!).
The cast also features some of our absolutely favorite hilarious Jews. Hannah Einbinder plays Amelia Earhart, Josh Gad plays the bard, Shakespeare. Our favorite chanter of Hebrew prayers, Jack Black, is seen in a fun musical moment as a soviet leader. We also get a glimpse of the wonderful Jason Alexander in the trailer with a fab mustache and beard. Other Jews in the cast include our favorite dad, Andy Cohen, Michaela Watkins, Emily Ratajowski, David Duchovny and more.
"History of the World: Part II" looks like it could be — dare I say? — even funnier than its predecessor.And it's premiering on March 6, the evening of Purim — aka the funniest Jewish night of the year. That can't be a coincidence. I can't wait.