The official Shtisel Instagram just gave us an incredible Purim gift — throwback pictures of the cast of Shtisel dressed up for Purim when they were children. It's a wonderful treat as we're waiting for the third season of the show (which already aired in Israel!) to be released on Netflix.
These photos of the stars of our favorite melodrama (which, as you know, is centered on a Haredi family in Jerusalem) are truly so precious that we need to take a minute to celebrate each and every one of them.
Here's a little fun explainer for each one, along with some tidbits about the actors, and even some info about season 3!
Pictures 1 & 2, Michael Aloni (L) and Shira Haas (R)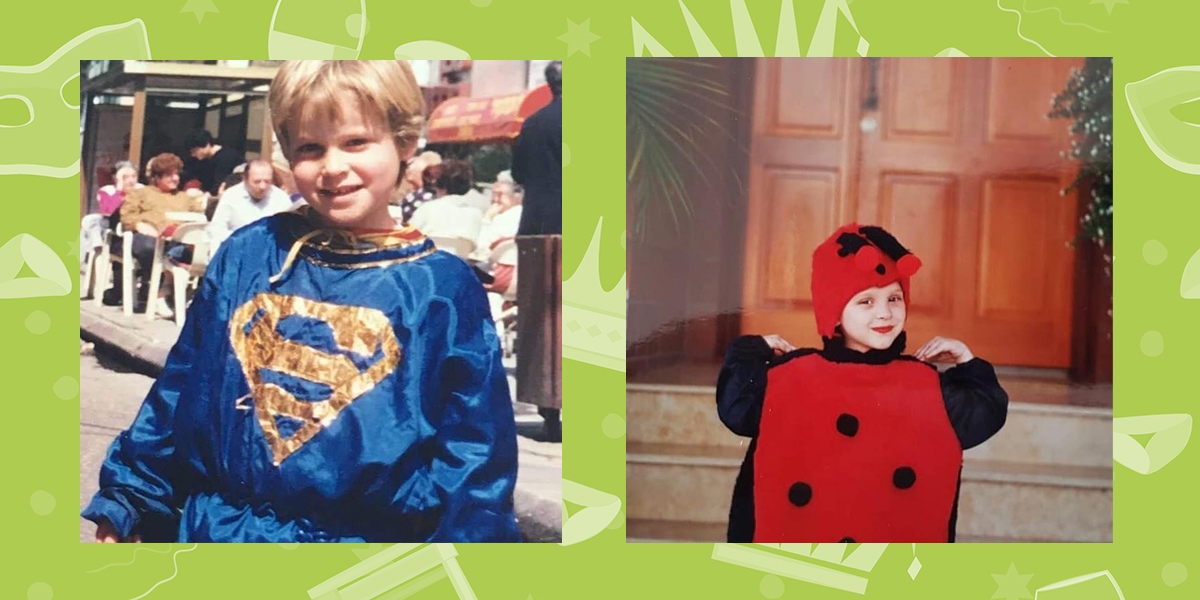 These first two pictures feature the show's biggest international stars, the dreamy Michael Aloni (Kiveh) and Shira Haas (Ruchami — and, of course, she also played Esty in Unorthodox).
Aloni, who was born in 1984, is dressed as Superman. He looks truly adorable with his bright blond hair. Haas, who is known for her diminutive stature, is dressed as the cutest little ladybug we've ever seen. According to Haas, this picture is from the year 2000, from when the actress was about to turn 5. You can totally see her posing for the camera, warming up those acting chops. We love it.
Pictures 3 & 4, Reef Neeman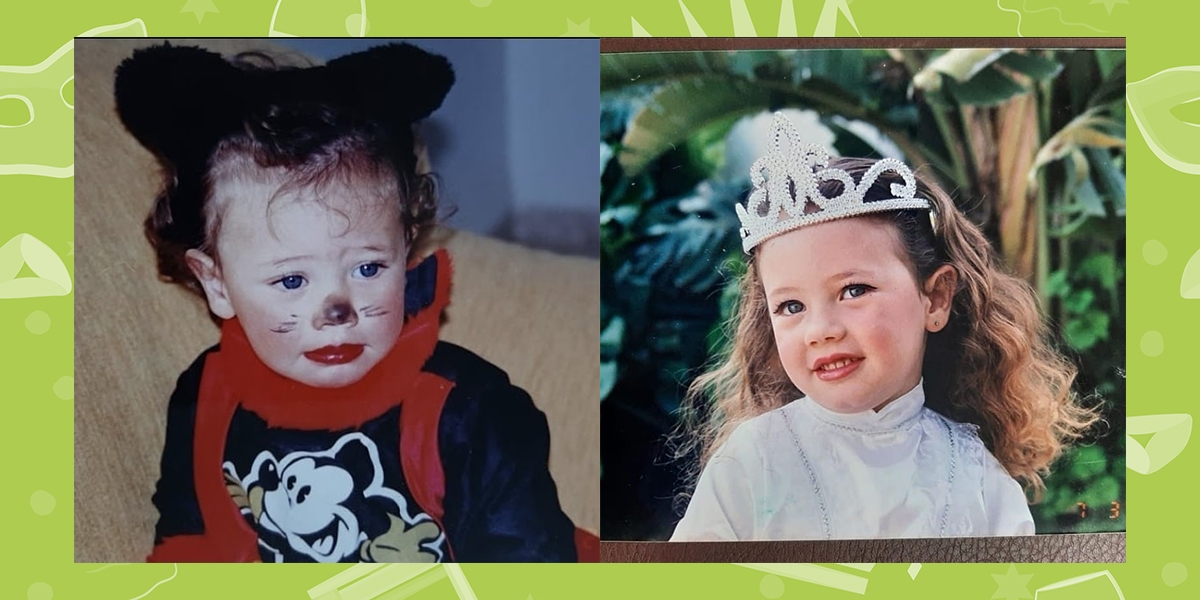 If you haven't watched season 3 of Shtisel yet — like most of us stateside — you haven't yet met Reef Naaman's character, Shira Levi. We've written about how she was cast for the show, and about her impressive previous roles (including in Fauda). Truly, watching Neeman act in this new season is a treat, and her character is super lovable.
In these two photos, Neeman, born in 1997, is dressed as Mickey Mouse and a princess. Her makeup is very good, and the costumes are truly Purim classics. (Yes, I will admit, I too asked to dress up as a princess every year for Purim!)
Pictures 5 & 6: Yoav Rotman (L) &  Sarel Piterman (R)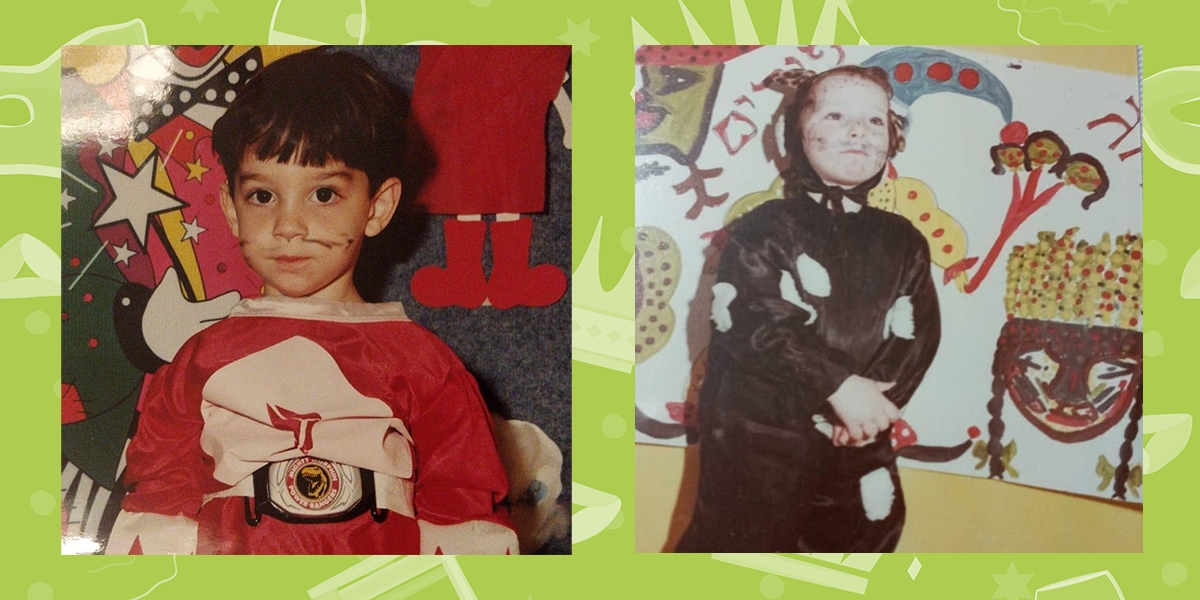 Yoav Rotman plays Hanina, Ruchami's husband, in Shtisel. But in this Purim photo, the actor, who was born in 1995, plays the most lovable (if somewhat melancholy) red Power Ranger. Rotman started his acting career in 2008, and he's also played the onscreen son of Ayelet Zuhrer (Elisheva in Shtisel, and also the star of Losing Alice) in the TV series Hostages.
Sarel Pitman plays Zvi Aryeh, the eldest brother of the Shtisel family. We're honestly not 100% what this actor, who was born in 1982, is wearing in the picture above. Our guess is some kind of feline creature. A spotted cat, perhaps? Or maybe a cow? Whatever it is, it's a very good nostalgic photo.
Pictures 7 & 8: Gal Fishel (L) & Zohar Strauss (R)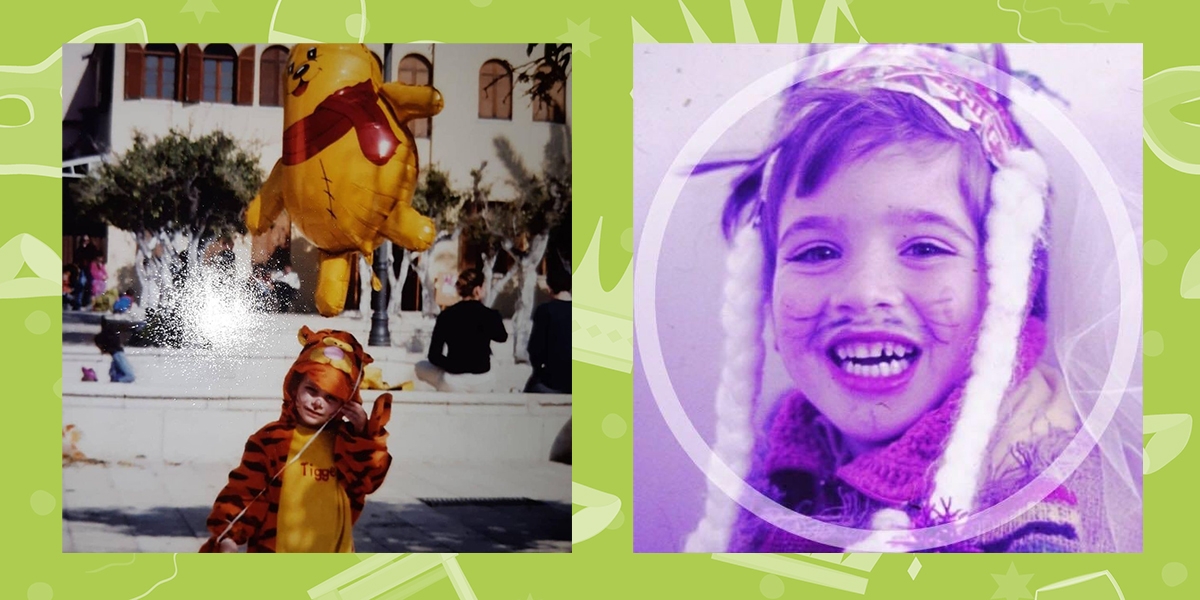 Gal Fishel plays Yosale, Gitti and Lippe's oldest son (and Ruchami's younger brother), in season 3 of Shtisel. In this season, he's all grown up and stuck in a sort of love triangle (you can read more about it here). In this Purim picture, the actor is dressed up as Tigger and holding a Winnie the Pooh balloon. (Actually the balloon appears to a knock-off, but the costume seems legit!) It's true cuteness overload.
What is Zohar Strauss, who plays Lippe Weiss, wearing in this very artistic Purim photo? According to the actor's own Instagram, he was dressed up as "an Indian." Not a very PC costume here in America (or anywhere, really), but the actor was born in 1978, so we will forgive it. Plus the DIY feel of this costume is strong!
Pictures 9 & 10: Miki Kam
Miki Kam is a veteran Israeli actress and singer who is admired by almost all Israelis (myself included). Kam was born in 1955 and her Purim photos have a delightful vintage feel. In Shtisel season 3, Kam plays Nechama, who becomes family patriarch Shulem's benefactor of sorts. She's truly a delight in this role, and another reason to look forward to season 3.
Thank you, Shtisel Instagram, for sharing these lovely photos with us! Make sure to follow them (and us!) for a lot more Shtisel treats. And if you're sharing your old (or new!) Purim costumes on Instagram, make sure to tag them #PurimKvell so we can share them on Kveller Instagram and celebrate with you!