Before my son was born, my wife and I used to receive what felt like an inevitable question in restaurants. It was a question that neither of us recalled ever hearing while on prior dates with other people, and the question seemed to cease once we had our babbling boy in tow:
"One check or two?"
Though my wife and I are both Jewish, she is a stunning Black woman, and I am a lanky freckle-faced ginger (though I prefer the phrase "Snickerdoodle-American"). And though it's possible our relationship may be assumed platonic by many waiters due to our mutual disinterest in public displays of affection, we can't help but think that our less-familiar racial arrangement may also be to blame. Fortunately, the presence of our fidgety, honey-toned toddler has mostly eliminated such awkward episodes, short of the occasional double-take.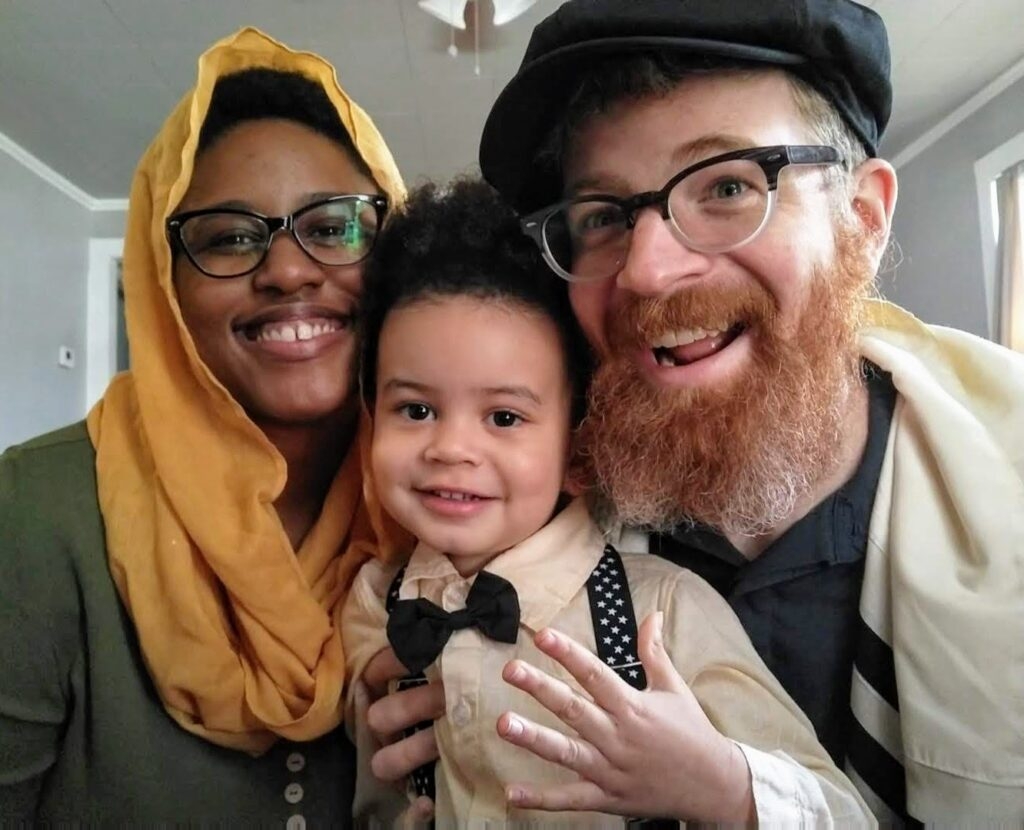 While I believe our boy has aided in the perceived "normalcy" of our relationship and our family, I feel that something else will contribute to the continued reduction in our mistakenly split checks. I predict — or, at least, I hope — the same thing will also happen to the countless interracial couples and biracial families across the country, moving forward. And just what — or, more accurately, who — is that force? Our new Vice President-elect, Kamala Harris.
A lot of "firsts" are changing the public's understanding of what is considered "normal."
Come January 2021, the Harris-Emhoff family will bring many firsts to the White House: Harris is the daughter of an Indian mother and a Jamaican father, making her the first female, Black, and Asian Vice President. Her husband, Douglas Emhoff, a white man, will be the first "Second Gentleman," as well as the first Jewish spouse of an American vice president.
While this couple seems downright exotic in this role in government, their pairing in society is becoming increasingly commonplace: According to the Census Bureau, the percentage of interethnic/interracial households in the U.S. jumped from 7.4% to 10.2% between 2000 to 2012-2016, and that number is assumed to follow its present upward trajectory. Oddly enough, my home state of Oklahoma experienced an above-average increase in interracial households over that same time — an uptick of over 4%.
A Second Family that looks more like mine
Will the election of Biden and Harris help bring an end to systemic racism so that I can avoid the conversation I so dread having with my Black Jewish son? Looking at the election results, I'm not holding my breath. While I'm glad that the Biden/Harris ticket eventually won out, it almost didn't happen. While many wrongly assumed "Hurricane Biden" would sweep the country, I found myself constantly refreshing my phone's news browser because I genuinely did not know how this nail-biter would play out. That goes to show that no post-Death Star destruction party, a la Return of the Jedi, is on the horizon. Not for a while, anyway.
Despite the slight burns from this magnifying glass-effect of this election — which revealed just how fractured we are as a country — I'm optimistic about the future.  And while I could make mention of Biden's projected Covid policies, which will hopefully result in my wife and I not having to decide whether my son can play with his friends or visit his great-great-grandmother on her 100th birthday, I'll leave the commentary to the people who know much more about pandemics than I do. (In other words: scientists.)
For now, I'm enjoying the more straightforward symbols that my 2-year-old son will see as he starts to form complex memories — namely, that his first look at the Second Couple will remind him of his own mommy and daddy. What's more, his history books will tell him about a time, before he was even born, when, for eight full years, a man who looked much like him was the President of the United States.
And while we've recently had Jews in the White House, there's little about the outgoing Jewish members of the First Family with which my own son could identify. Socio-economically speaking, in comparison to our Oklahoma middle-class existence, Jared and Ivanka are from Mars. The Harris-Emhoffs, on the other hand, feel like a couple we'd catch up with over lox and capers in the reception hall of our local synagogue after a Shabbat morning bat mitzvah. And I'd be lying if seeing this "Momala" (her Jewish stepkids' nickname for her) in the kitchen didn't remind me of my own wife's love of cooking. I have no doubt that my son will have fond memories of his own mamaleh turning the kitchen upside down in preparation for a delicious Shabbat meal.
What does all this mean for my son? My first prayer is that when he sees Harris — like Obama before her —  in this extremely high-profile role, it will help him believe what his own mommy and daddy tell him: That his identity is no barrier to what he wants to accomplish. My second prayer is that we all help build a world in which that's not just a nice sentiment but an actual fact.
For now, as the image of our new Second Family becomes more popular and "normal," perhaps it will help reduce the likelihood of us receiving the question in restaurants. That is, once Covid-19 comes under control and we feel comfortable going out again.
Header Image by OLIVIER DOULIERY /AFP/ Getty Images