Today is the last day of Hanukkah, and sundown will bring with it the end of this year's Jewish festival of lights. Before we pack up our menorahs (after cleaning off all that wax), let's take one last opportunity to celebrate the holiday — with some Jewish celebrities.
This year, Jewish celebrities (and a couple of non-Jewish ones, too!) really outdid themselves with their Hanukkah festivities, making challah and sufganiyot, singing the blessings and lighting a bunch of gorgeous menorahs.
Let us round up all the ways celebrities celebrated eight days of Hanukkah this year:
Doug Emhoff and Kamala Harris:
We start with the highest-profile Jew in the country — second gentleman Doug Emhoff. Emhoff and Vice President Kamala Harris made history by lighting the first ever menorah in the Naval Observatory (that's the VP residence, the more you know) and they were so proud of it they didn't even cover the table with tin foil. Daring! Emhoff also gave a moving speech at the Biden administration's first Hanukkah party.
From our family to yours, Happy Hanukkah. pic.twitter.com/yfCQfsE1uX

— Douglas Emhoff (@SecondGentleman) November 29, 2021
Fran Drescher:
Also in attendance at the White House Hanukkah party? Fran Drescher, "The Nanny" star and our fashion queen, who was so very excited to have been invited:
Josh Malina:
Jewish "West Wing" star Josh Malina always brings his A-game to every Jewish holiday, and this one was no exception. Malina shared a selfie decked out in latke-shredding gear. He shreds by hand — no Cuisinart or food processor here, which is quite the workout. He also shared his very excellent Hanukkah hat.
Haim:
Jewish sister band Haim reigns supreme when it comes to eight full days of Hanukkah content. In what is now a tradition known as "Haimukkah," they brought us a new giveaway or videos every night of Hanukkah, including an incredible re-work of Adam Sandler's "Chanukah Song," to which Sandler replied with adoration. We love it!
Sandler we love you pic.twitter.com/QGBAwqOZld

— HAIM (@HAIMtheband) December 3, 2021
Mariah Carey:
Mariah Carey is not Jewish, but she did give us a rendition of a (so far unrecognizable!) Hanukkah song, and we are grateful for it. Carey is also familiar with the Hanukkah classic "I Have a Little Dreidel." I truly can't wait for the Mariah Carey Hanukkah album, please and thank you:
Happy Hanukkah!!!! 💖🕎 Learned this one in grade school, thought I'd teach it to Roc & Roe, I don't think they've got it yet 😂 pic.twitter.com/aZhiDx0IKZ

— Mariah Carey (@MariahCarey) November 29, 2021
Foo Fighters:
This is the second year the Foo Figthers continued their tradition of releasing a cover of a Jewish artist for every night of Hanukkah. Frontman Dave Grohl is not Jewish, but he teamed up with the Grammy-winning Jewish producer Greg Kurstin for this delightful series. This year, they covered Lisa Loeb, The Ramones, Van Halen (David Lee Roth), The Clash (Mick Jones), Billy Joel, Barry Manilow (born Barry Pincus), Amy Winehouse and Kiss.
Lisa Loeb:
Speaking of Lisa Loeb, the Jewish mom responded to the Foo Fighters' cover of her song "Stay" with much love, and shared her own Hanukkah song, "Light," as well as two pictures from her own Hanukkah candle lightings, including one of her adorable menorah collection:
Andy Cohen:
Talk show host Andy Cohen shared a wonderful picture of him with his son, Ben, who is no longer a baby but a full-fledged toddler (and who is still very stylish and adorable). It's so lovely to see the two of them light the menorah together.
Daveed Diggs:
Actor and "Puppy for Hanukkah" singer Daveed Diggs shared a picture of his mom frying up some latkes in his Instagram story. We love to see it/would like to eat it.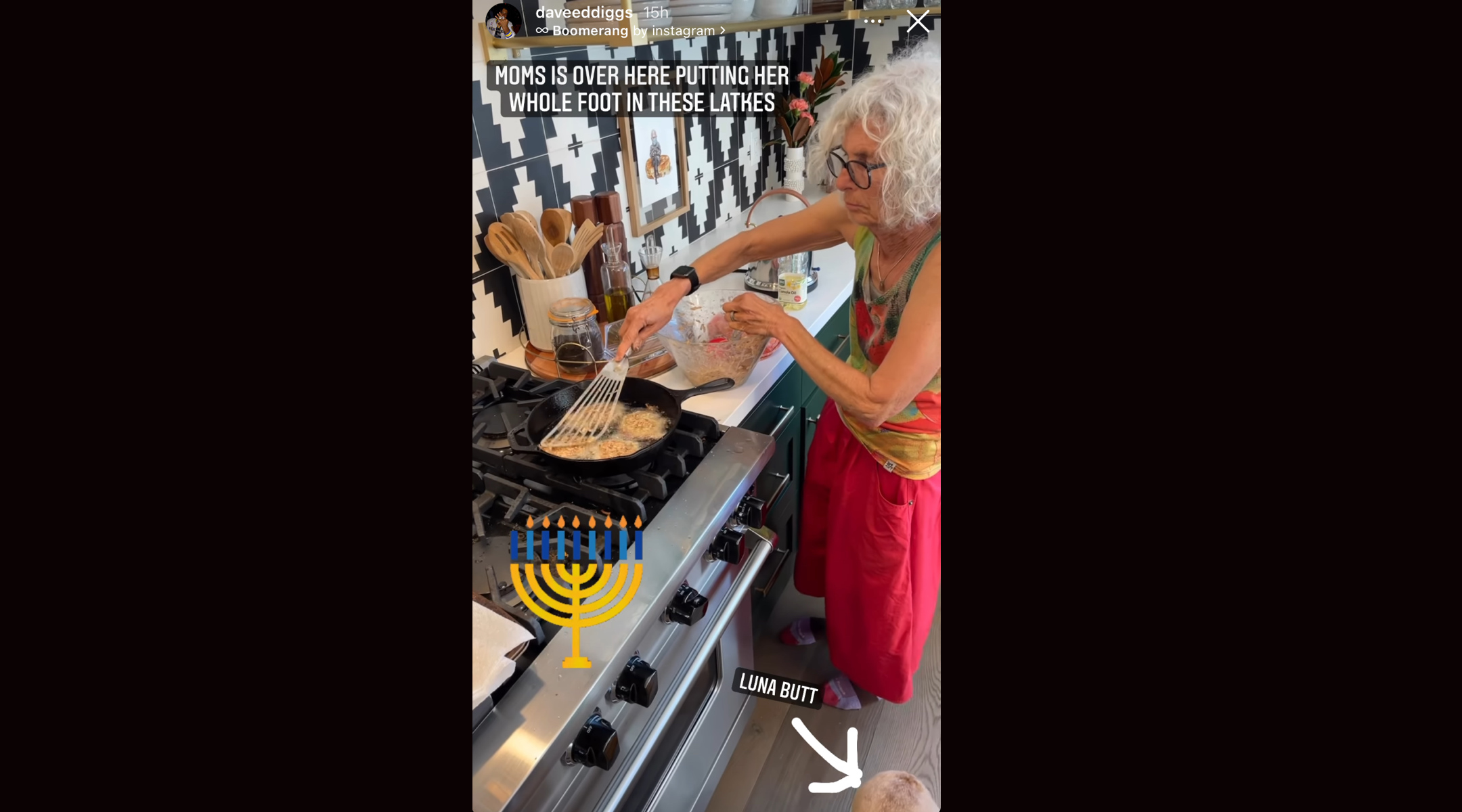 Drew Barrymore:
Drew Barrymore, who is raising two Jewish daughters, shared a cute felt Hanukkah menorah that she uses with her family.
Bryan Greenberg
New Jewish dad Bryan Greenberg looked adorable celebrating Hanukkah in a holiday sweater:
Happy Hanukkah! pic.twitter.com/9MSys6pIcj

— Bryan Greenberg (@bryangreenberg) November 28, 2021
Joey King:
Jewish actress and queen of Hanukkah sweaters Joey King shared a very darling picture of herself with a fully lit menorah:
Adam Sandler:
Adam Sandler, Jewish dad and writer of perhaps the best-known Hanukkah pop culture song of all time, shared a "Don't Mess with the Zohan"-themed Hanukkah greeting on his Instagram.
Cheyenne Jackson:
Cheyenne Jackson, the actor who stars opposite Mayim Bialik in "Call Me Kat," is not Jewish, but his spouse, Jason Landau, is. Landau and Jackson welcomed twins Willow and Ethan in 2016.
"Happy 1st night of Hanukkah from the Jackson-Landaus," Jackson wrote in an adorable family Instagram post:
Mark Ronson:
Newly married music maven Mark Ronson shared his Hanukkah (and Shabbat!) candle lightings on his Instagram stories: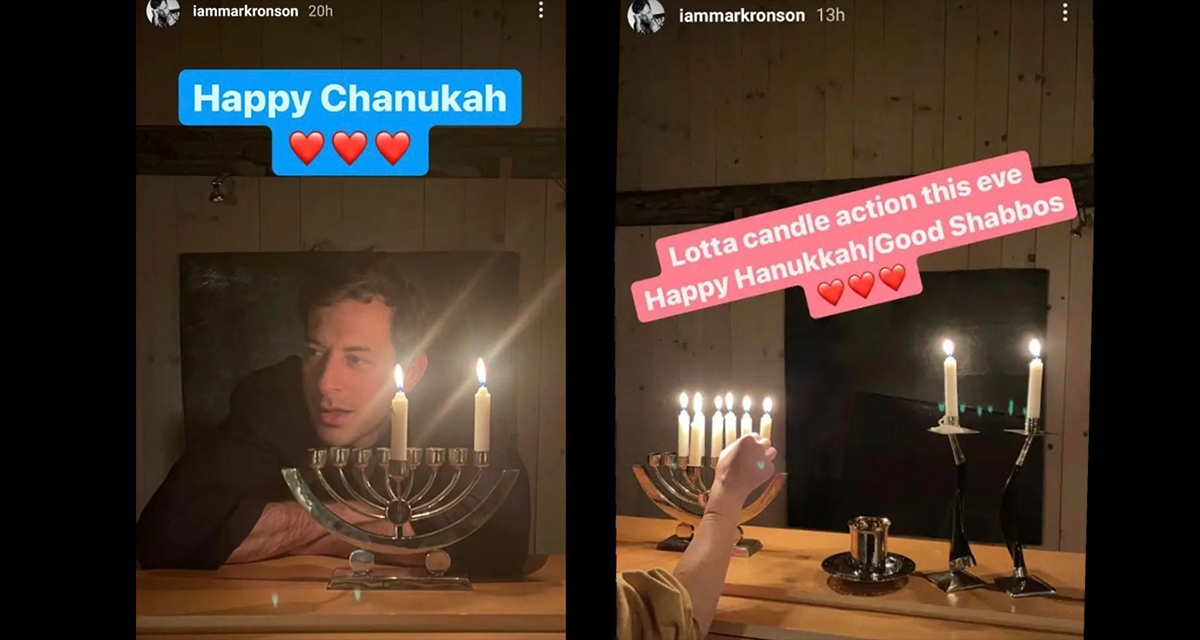 Nissim Black:
Orthodox Jewish rapper Nissim Black released a new Hanukkah track with Kosha Dillz based on Sandler's "Chanukah Song," and filmed a video for it in NYC.
Abbi Jacobson:
"Broad City" star Abbi Jacobson lit beeswax candles in a gorgeous mushroom menorah that I very much need.
Debra Messing
Jewish mom and actress Debra Messing shared a Hanukkah message from the American Jewish World Service along with a picture of Hanukkah being celebrated in 1944 Nazi-occupied Holland, writing "this Hanukkah choose light," and "we will never forget."
The "Will & Grace" star also shared a video of "Billy on the Street" in which she and Billy Eichner ask a passerby what holiday they celebrate, and when they respond Hanukkah, Messing and Eichner happily cry "a Jew!" It's delightful.
Pink:
The Jewish singer and her daughter, Willow, sang the Hanukkah blessings together on the second night of Hanukkah and they were absolutely pitch perfect.
Judy Gold:
Jewish mom, actress and stand-up comedian Judy Gold shared a picture of her menorah on the first night of Hanukkah, writing, "Follow the light."
Alex Borstein:
"Marvelous Mrs. Maisel" star Alex Borstein celebrated the first night of Hanukkah on the beach with her family. On the second night, the teaser for season four of the show dropped, and Borstein shared the news with the caption: "And on the second night of Chanukah my true love gave to me… a little teaser to wet my whistle. 💝"
Mayim Bialik:
Mayim Bialik, the queen of explaining Jewish holidays (check out her Hanukkah video!), made some delicious-looking vegan sufganiyot for Hanukkah. She also brought some well-needed Hanukkah spirit to "Jeopardy!"
Chelsea Handler:
Comedian Chelsea Handler made a very lewd-looking challah for her family's Hanukkah party, as one does. "We never celebrated Hanukkah growing up, we lit candles and we got money, so I don't know why this tradition is starting," she candidly told her audience.
Tig Notaro:
Comedian Tig Notaro recently went on "Ellen," where she relayed that her kids are very excited about Hanukkah, despite the fact that neither she, nor her partner, is Jewish: