Celebrities are just like us: they celebrate Passover! They buy kitschy 10 plagues masks, they search for the afikomen, and they cook brisket and matzah ball soup.
So, we rounded up our favorite Jewish celebrity Passover Instagram posts — plus one from Kris Jenner, who definitely isn't Jewish:
1. Alex Borstein
The Marvelous Mrs. Maisel star and Jewish mom of two posted a picture of her and her daughter with plague masks on. We wonder if she ever got her copies of the Maisel haggadah…
2. Debra Messing
The Jewish actress celebrated Passover with her "chosen family."
Then she posted an "after" snap of a "Passover pass-out":
3. John Mulaney
Comedian John Mulaney and his Jewish wife Annamarie Tendler celebrated Passover with friends:
Mulaney posted how he searched for the afikomen (he's also pictured wearing a kippah!):
4. Natalie Portman
Natalie wished her followers a "Happy Pesach!" Confusingly, she shared a clip of an interview about creating things:
5. Yael Grobglas
Grobglas, an Israeli actress who stars in Jane the Virgin, posted a slideshow of her Passover plate, her haggadah, and two very amazing selfies with matzah:
6. Judy Gold
Comedian Judy Gold (who was recently on our Call Your Mother podcast!) shared a delicious image of matzah brei:
7. Kris Jenner
Okay, so the Kardashian matriarch definitely isn't a Jewish celebrity, but she is eating matzah…
8. Josh Malina
The Jewish actor wished his followers "Chag Sameach!" and shared his very full pot of matzah balls:
He also posted this very accurate tweet about Passover:
Every year I anticipate losing weight over Passover, and then I spend 8 days eating meat and candy.

— (((Joshua Malina))) (@JoshMalina) April 17, 2019
(Amen, Josh!!)
9. Zach Braff
The Jewish actor shared a photo of himself with some baby goats:
10. Dianna Agron
Agron, who you probably know best from her role on Glee, shared a picture of herself in one of those plague masks:
https://www.instagram.com/p/Bwho8INAI0v
She also shared a video of her "rocking up to your Seder" (listen with your sound on, trust us):
11. Michaela Watkins
Watkins shared a sweet snap of her seder table. The Jewish actress asked if there was a prize for throwing a seder for 12 of her family members:
12. Josh Peck
Peck, of Drake & Josh fame, posted a snap of him and his baby wearing a kippah (awwww). He also hashtaged #chagsameach!
13. Mayim Bialik
The Jewish actress posted pictures of her home, ready for Passover. We love her hashtags: #kashering, #whatjewsdoforpesach, #frumtothemax, and #liberation.
14. Leandra Cohen
The Man Repeller founder (and mom of twin girls!) shared a snap of her grandma's recipe for a kosher for Passover cake:
15. Andy Cohen
Okay, Andy Cohen (a brand-new Jewish Dad!) wished his followers a Happy Easter, not Passover, but this picture is just too cute — his baby is TOO FREAKIN' CUTE — that we had to include it in our round-up:
16. Ezra Koenig
The Vampire Weekend frontman — who recently welcomed a son with Jewish actress Rashida Jones — was spotted at a seder with social media influencer Jovan Hill (he's in the back of this photo):
Koenig also shared seder-themed Vampire Weekend merch on his Instagram story: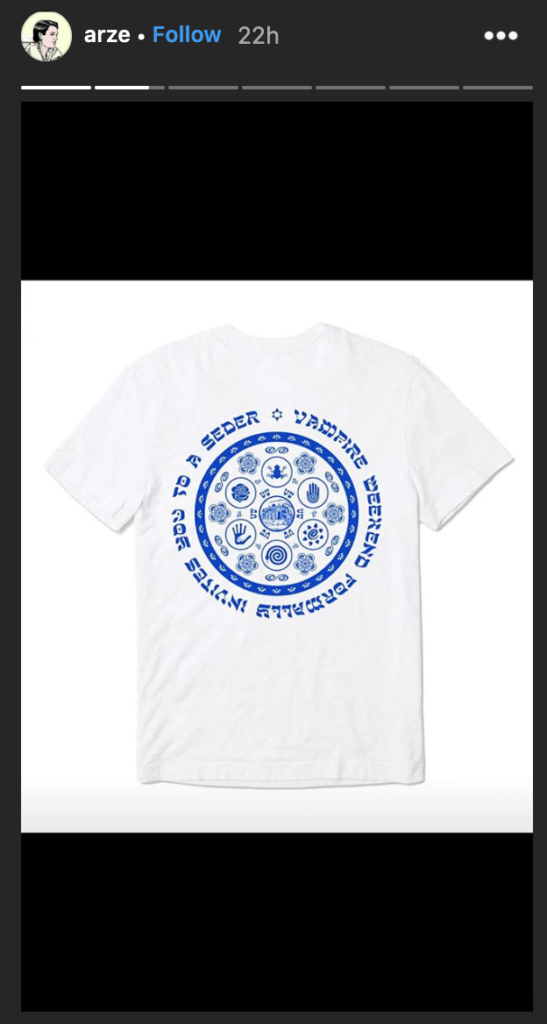 17. Jenna Jameson
On Sunday, retired porn star and Jewish mom Jenna Jameson shared a picture of herself at The Grove Mall in Los Angeles on Instagram holding a copy of the Jewish Journal. "Causal and beautiful holiday weekend," she wrote.
18. Matisyahu
Jewish singer Matthew Paul Miller, known as Matisyahu, filled his Instagram feed with celebratory Passover photos. Making good use of seder leftovers, Matisyahu shared his kosher for Pesach (and 4/20 friendly) breakfast with his followers: "An instant classic: the Matisyahu 420 Pesach freedom sloppy brisket scramble."
By the looks of another Instagram post of a woman holding a glass of wine with a gorgeous ring on her finger, Mastisyahu might have gotten engaged. With a cryptic "Night 2" caption, we'll be on the lookout for confirmation.
19. Eric Andre, Moshe Kasher, Natasha Leggero, Joe Mande
In the ultimate Jewish comedian Passover mashup, Jewish mom Natasha Leggero and her husband Moshe Kasher invited Eric Andre and Joe Mande to their seder on Saturday. Known for being a pothead, Andre, donning a kippah, captioned his Instagram story "Happy 420 y'all." As to who took the photo of the foursome, we're not sure… But here's hoping it's another of our favorite Jewish comedians.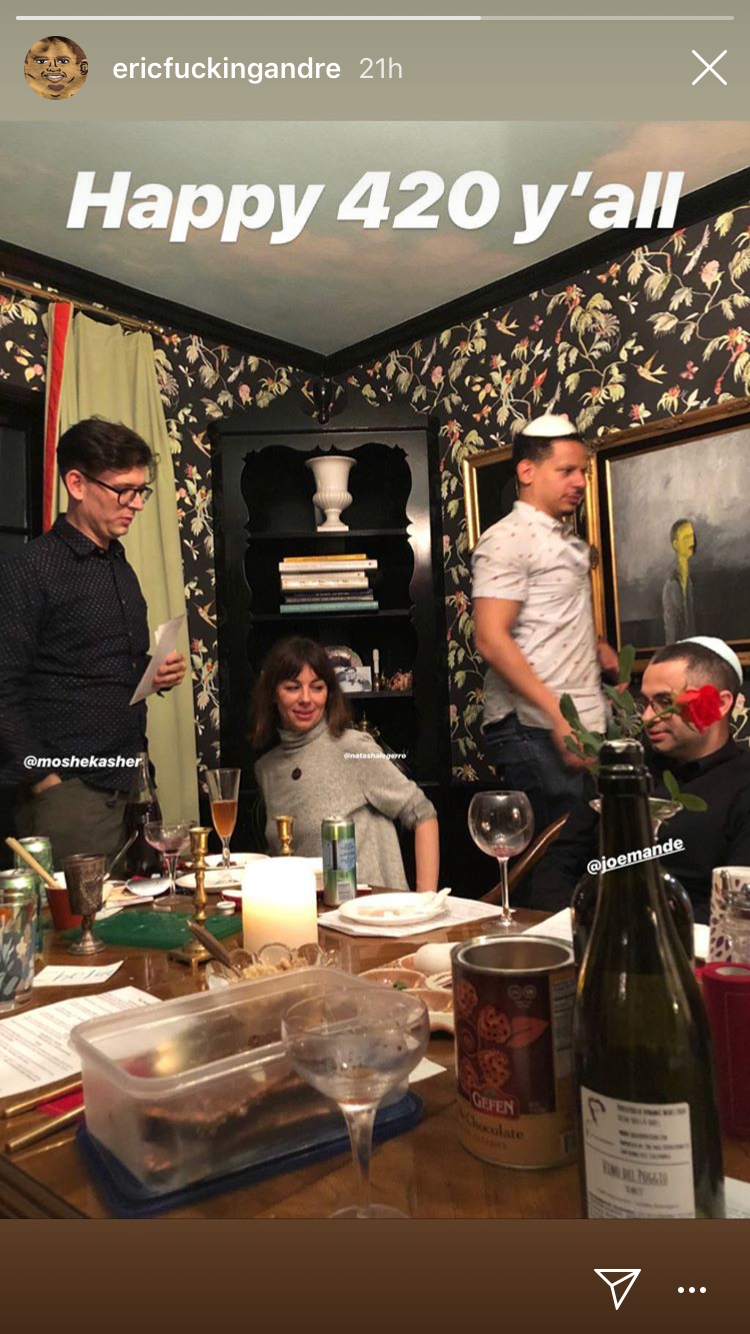 20. Nick Kroll
The Jewish comedian and actor made brisket while wearing a flamingo apron.
21. Jessica Mulroney
And, obviously, Meghan Markle's Jewish BFF Jessica Mulroney wished her followers a very happy Passover.