This Hanukkah was a special one: A pandemic Hanukkah, in which so many of us couldn't celebrate with our families and friends, closing out a year in which has many of us mourning terrible losses.
At times, it's been challenging to find the light in 2020. But this Festival of Lights, some Jews — and yes, even some very famous Jews — still found a way. What's more, getting a window into the Hanukkah traditions of these famous Jews during this difficult year has been especially wonderful. It gave us (or at least me!) the feeling that we were celebrating this holiday apart-but-together, as one big, digital Jewish community.
Here is how 22 Jewish (and Jewish-adjacent) celebrities helped bring in the light this Hanukkah of 2020:
Doug Emhoff
Of course, one of the most moving "celeb" Hanukkah videos came this year from Emhoff and Kamala Harris, who shared with the country why they love the holiday so much. Imagining the future VP, her Jewish husband, and their two Jewish children light the menorah at the White House for the next four years is making us quite verklempt.
Hanukkah is one of our favorite holidays — and a reminder to spread the light at a time when we've never needed it more.

From our big, modern family to yours, happy Hanukkah! pic.twitter.com/KbkisZooCO

— Doug Emhoff (@DouglasEmhoff) December 10, 2020
Elizabeth Banks
The Jewish director, actor, and mom posted a fun picture of herself in a Hanukkah sweater, wishing her followers a happy eight nights of Hanukkah. She also shared her family's candle-lightings on Instagram stories. On the final night, she shared a photo of her menorah, with all the candles lit, and tagged her Jewish husband. "Thank you for the presents @maxhendelman," she wrote, adding #familyiseverything. Aw.
Nicolette Robinson
Robinson, who along with her husband, Leslie Odom Jr., gave us one of the best covers of "Maoz Tzur" ever recorded, shared a video of herself lighting a candle with her daughter, the two of them wearing matching tichels (head coverings). It was very special.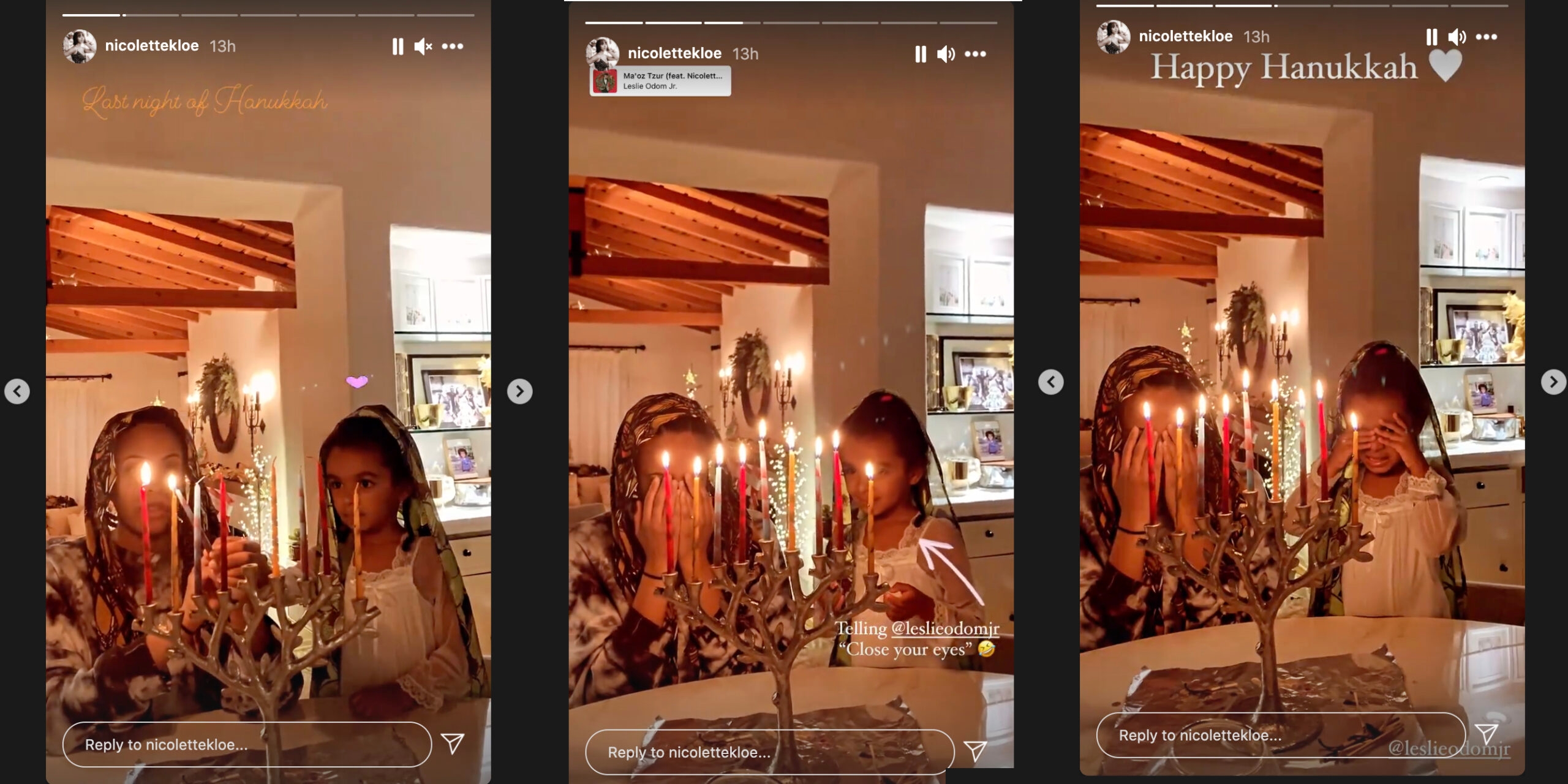 Odom Jr. and Robinson also shared a special, live recording of their moving cover, along with some super cute bloopers and pregnancy giggles:
View this post on Instagram
Andy Cohen
The Jewish dad and Bravo producer and host dressed his adorable son, Ben, in blue and yellow tie-dye for the first night of Hanukkah. Who doesn't love a good Hanukkah tie-dye?!
Shira Haas, Michael Aloni, Doval'e Glickman, and Netta Riskin
These four Shtisel stars joined hundreds of adoring fans for a virtual candle-lighting, a Q&A session, and the Shtisel season 3 premiere at a virtual event hosted by Temple Emanu-El Streicker Center on the last night of Hanukkah. They each brought their own menorah for the exciting and festive online event.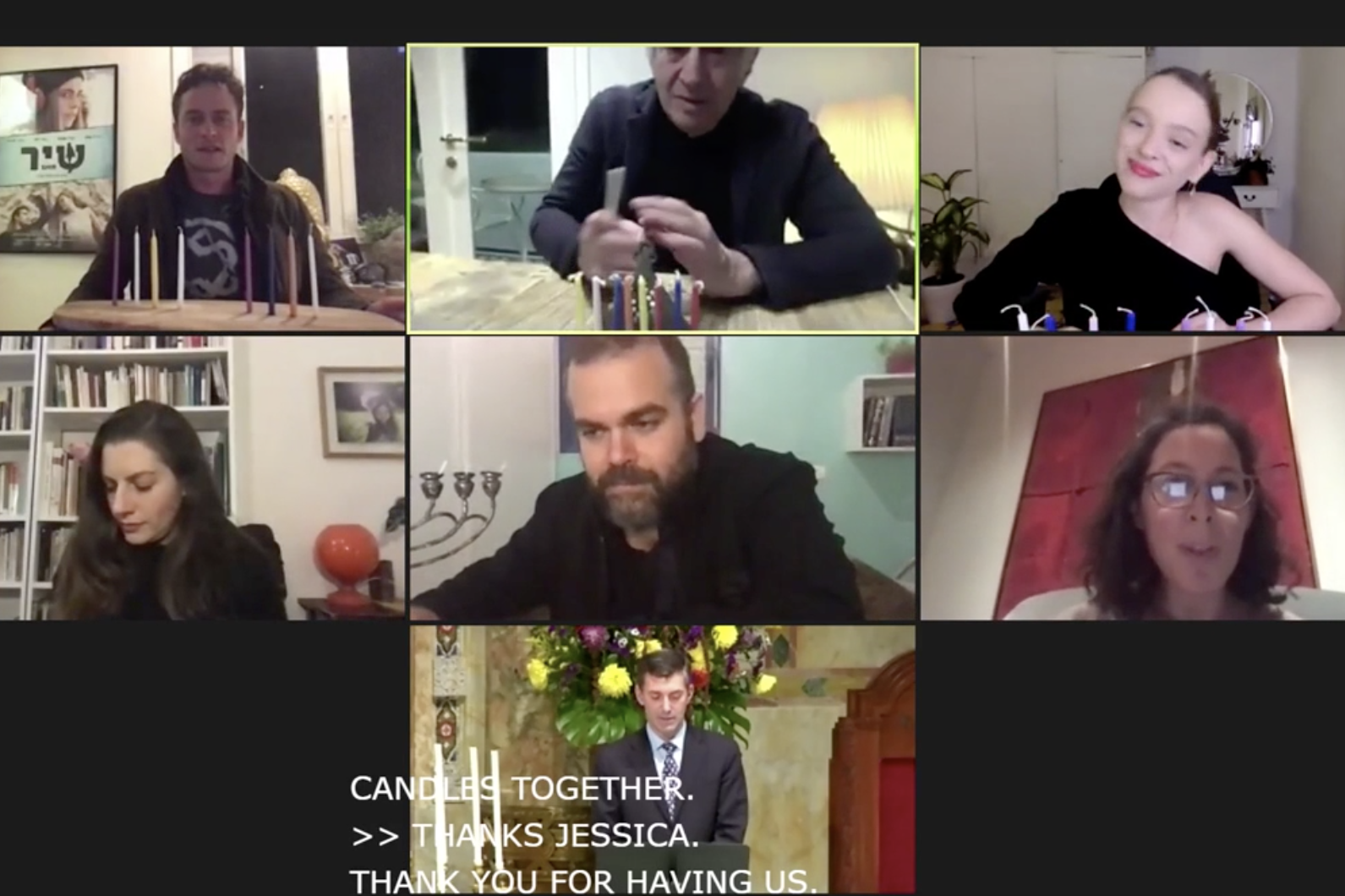 Chrissy Teigen
Teigen celebrated her first Hanukkah ever with her collaborator, Adeena Sussman. She lit the candles, made latkes, and learned the ins-and-outs of playing the dreidel. On her Instagram stories, she apparently mentioned that her paternal grandmother, Ruth Schaefer, was Jewish.
Anne Hathaway
Hathaway married Jewish actor and producer Adam Shulman in 2012 and the couple has two kids. Hathaway shared a picture of her menorah on the first night (though some nitpicked that her shamash wasn't lit and that she lit the candles in the wrong direction). "From our family to yours, a simple prayer of thanks for all who bring the light. Happy Hanukkah," she wrote.
Haim
This rock band, consisting of three Jewish sisters, gave their followers a special present on each night of Hanukkah, from giveaways to musical tidbits, to their favorite tweet of the year.
Foo Fighters
Foo Fighters frontman Dave Grohl, who is not Jewish, along with Jewish music producer Greg Kurstin (who worked on the Foo Fighters' latest album, and is the force behind many mega-hits of the past decade, including Sia's "Chandelier" and Kelly Clarkson's "Stronger") collaborated on eight nights of Jewish musical gifts: a cover of a Jewish artist from across the musical spectrum on each night of the holiday. Their covers ranged from moving to wild, and, honestly, they were all pretty amazing.
You might be surprised to learn that this superstar is… Canadian. He's never hidden the fact that he was M.O.T. so a generation of Jewish parents could tell their kids "if @Drake took the time to study for HIS Bar Mitzvah, you can too." Twitterverse, challah at your boy! pic.twitter.com/eyMyuNs5WP

— Foo Fighters (@foofighters) December 12, 2020
Daveed Diggs
OK, so we don't exactly know how Diggs celebrated his Hanukkah, but we know he changed all of ours for the better with his amazing Disney bop for the Festival of Lights: "Puppy for Hanukkah."
Alicia Silverstone
The Jewish Clueless and Baby-Sitters Club star celebrated the holiday by lighting the menorah with her son, Bear.
Debra Messing
Speaking of puppies for Hanukkah, looks like Jewish Will & Grace star Debra Messing gave her puppy, the adorable Havanese, Henry, a holiday makeover. He looks very dapper!
Mayim Bialik
Bialik shared photos of her candle lightings, a special holiday explainer, and even an incredible Hanukkah candle lighting video with us. Now we just have to patiently wait for her new show, Call Me Kat, for our belated Hanukkah gift.
Alex Borstein
The Jewish Marvelous Mrs. Maisel star got to spend a cozy and very special Hanukkah with her family, including her two wonderful kids and her adorable Jewish parents, with whom she was reunited in person for the first time since the pandemic started — after the prerequisite testing and quarantining.
Bryan Greenberg
Jewish One Tree Hill actor Bryan Greenberg shared a photo of his first night of Hanukkah, along with a glimpse into his family's Hanukkah Zoom party.
Happy Hanukkah! pic.twitter.com/LolGmG7OlE

— Bryan Greenberg (@bryangreenberg) December 11, 2020
Gal Gadot
On the Late Show with James Corden, the Wonder Woman star shared her favorite thing about Hanukkah: the delicious fried food. She also told Corden that since she moved to LA with her family, it's been more important for her to light the candles every night and be strict about keeping up their Hanukkah traditions.
Leslie Grossman
The Jewish American Horror Story star and mom summed up the Festival of Lights in a perfect, succinct way.
Hanukah falls in the same category as almost all jewish holidays- they tried to kill us, we won, let's eat

— Leslie Grossman (@MissLeslieG) December 13, 2020
Adam Sandler
The Jewish comedian, actor, and producer shared a shot from his 2002 Hanukkah movie, Eight Crazy Nights, and wished everyone a happy sixth night of Hanukkah.
Joshua Malina
The most Jewish of Jewish stars, West Wing alum Joshua Malina, started his first practice batches of latkes before the holiday began, just as a true Jewish champ would. He also shared a moving musings about the poetic significance of seeing that lone, first candle on the first night of Hanukkah:
I love the full-blaze photos of the 8th night, but I'm more moved by the images from the first night. That single candle with its sole friend, the shamash, speaks to me of vulnerability and endurance against long odds. https://t.co/VrJagmjUmN

— (((Joshua Malina))) (@JoshMalina) December 11, 2020
Though he didn't forget to get some Hanukkah jokes in there before the eight nights were over:
For Hanukkah I got my wife "I promise to stop saying 'La Croix' in the French manner."

— (((Joshua Malina))) (@JoshMalina) December 13, 2020
We hope you and yours had a happy, happy, happy Hanukkah!