The eight crazy nights of Hanukkah are coming to a close, but Jewish celebrities are still celebrating. With social media posts full of menorahs, sufganiyot, latkes, and dreidel playing, it's clear they're proud to be Jewish!
As a Hanukkah gift from us to you, we rounded up a bunch of Jewish celebrities who got lit this holiday season. Here are some of our favorites.
1. Zach Braff of Scrubs fame shared an adorable photo on Instagram of him and his three siblings as children. He captioned it: "Happy Hanukkah from the Braff's [sic]. The stud on the right is me." Of course, Braff also celebrated Hanukkah with a banger of a song presented by his new boyband, Menorahs II Men.
2. Jane the Virgin star Yael Grobglas — who is expecting a baby with her high school sweetheart, Artem Kroupenev — wished her Instagram followers a happy "Chanukah," "Hanukkah," and "Hanooookaa!" on the first night of the holiday. Yael, if you're reading this, we go with Hanukkah ;).
She also shared another photo of herself eating sufganiyot days later, captions "more sufganiyot plz…"
3. Jewish mom and The Marvelous Mrs. Maisel star Alex Borstein celebrated the first night of Hanukkah at a hotel. On Instagram, she shared a hilarious video where she opened her hotel room's nightstand's drawer. "I'm guessing the torah's in the closet," she said. LOL!
4. Our favorite Jewish dad, Andy Cohen, celebrated the first night of Hanukkah with his adorable son Benjamin, and blessed us with heartwarming photo!
5. Jewish mom-to-be and Crazy Ex-Girlfriend star Rachel Bloom got into the Hanukkah spirit a tad early. A few days before the Festival of Lights began she shared a photo of herself and her pregnant belly on Instagram wearing the Hanukkah themed Santa outfit she debuted in 2013 with her "Chanuka Honey" song.
6. Ahead of the first night of Hanukkah, Jewish mom and actress Natalie Portman shared a "surprisingly easy and simple" vegan latke recipe. Watch her make (and sample!) the Hanukkah treat in her Instagram video!
7. Singer and Jewish mom Pink celebrated Hanukkah by lighting the hanukkiah and showing it off on Instagram.
8. With her new Netflix comedy special Black Mitzvah, comedian Tiffany Haddish has unstoppable when it comes to flaunting her Jewish pride.  On the fifth night of the holiday, she accidentally only lit four candles. As soon as her followers corrected her, she posted another picture: "Thank you to my Jewish sisters and brothers on teaching me! For years I have been lighting the extra candle on the last day."
9. Athlete Billie Jean King isn't Jewish, but she proudly celebrated the holiday with her Jewish partner, Ilana Kloss. "As we celebrate the first night of Hanukkah, let us celebrate light: that which lies within us, and that which shines forth from others," she wrote on Twitter.
As we celebrate the first night of Hanukkah, let us celebrate light: that which lies within us, and that which shines forth from others.

Blessings of health and happiness to all. #HappyHanukkah pic.twitter.com/EjGFeLqpZ7

— Billie Jean King (@BillieJeanKing) December 22, 2019
10. Jewish dad and The West Wing actor Josh Malina got his holiday wishes in ahead of time on November 29th.
11. Comedian Patton Oswalt celebrated Hanukkah with his wife, Meredith Salenger, and daughter Alice (from his first marriage with his late wife Michelle McNamara). Salenger shared a series of photos on Twitter with Oswalt, her cat, step-daughter, and lit hanukkiahs.
Life with you is non-stop magic, baby. I mean it. Thank you for bringing that back. https://t.co/lXL3SVL4kX

— Patton Oswalt (@pattonoswalt) December 23, 2019
Oswalt reshared his wife's post and said: "Life with you is non-stop magic, baby. I mean it. Thank you for bringing that back."
12. Comedian Mosher Kasher celebrated Hanukkah on the road. He shared a photo on Instagram of a silver Hanukkiah, a stuffed animal that appears to be a donkey — or maybe a reindeer? — and a cellphone playing "Chanukah Oh Chanukah."
A follower pointed out that Kasher lit the hanukkiah the wrong way, to which the Jewish dad replied: "We do things different around here."
13. Jewish dad Josh Peck  — formerly of Drake and Josh fame, now of Boyz II Menorah fame — celebrated Hanukkah with his baby boy, Max.
14. Are you under the weather this time of year? You are not alone: Russian-American singer Regina Spektor shared a very long Hanukkah Instagram post detailing the remedies she tried to get over her cold. Despite her ailment, she managed to make latkes and and light the Hanukkah candles.
15. Regina isn't the only celebrity who shared a long Hanukkah post. Jewish actress and mom Tori Spelling showed off her marvelous Hanukkah dinner table full of gelt, challah, dreidels, holiday cookies, and even a Hanukkah bush. Spelling says she was born Jewish but was "raised to celebrate all holidays as a way to come together as a family and start traditions and make memories." She says she wants her children to appreciate the traditions and lessons that all holidays bring to the table.
Read her post to learn about the ingredients in her "Everything but the Dreidel" casserole, AKA a "Jewish Lasagna."
16. Jewish Swedish-Israeli American — what a mouthful! — Jessica Meir, 42, made history earlier this year when she became the first Jewish woman to participate in the all-female spacewalk. And on the first night of the Festival of Lights she wished "those who celebrate it on earth" a happy Hanukkah!
Happy Hanukkah to all those who celebrate it on Earth! #HappyHanukkah pic.twitter.com/FKC2M5iXni

— Jessica Meir (@Astro_Jessica) December 23, 2019
17. Jewish actress Dianna Agron gifted herself an afternoon nap for Hanukkah.
18. Jewish actress Sophia Bush of One Tree Hill fame celebrated Hanukkah at Russ and Daughters, her "Happy (Hanukkah) place!"
"I love y'all a latke," she said to her Instagram followers.
19. Jewish celeb Mayim Bialik showed off her cooking skills for Hanukkah. In an Instagram post she shared a series of images of homemade vegan sufganiyot. Yum!
20. Twitter icon — and Seth Rogen's mom — Sandy Rogen baked cookies and made latkes for Hanukkah, but she forgot to follow her own advice.
Cookies the kids made and went sprinkle crazy ! pic.twitter.com/y9E4PVgzBR

— Sandy Rogen (@RogenSandy) December 24, 2019
Instead of frying 80 potato pancakes outdoors to avoid filling the house with a pungent scent, she fried them indoors, leaving her hair smelling like a "latka."
I just made 80 latkas ! In the house . With the door and windows open and the fan going. In Canada

— Sandy Rogen (@RogenSandy) December 17, 2019
21. TV host and producer of Catfish: The TV Show Yaniv "Nev" Shulman celebrated Hanukkah with his wife and two children. The Jewish dad shared an image on Instagram and wrote, "May your lives be filled with wonder and laughter."
22. Actor Jeremy Piven, 54, celebrated Hanukkah with his family and his French bulldog.
23. Fashion designer, influencer, and Jewish mom Arielle Charnas celebrated Hanukkah with her husband, two daughters, and parents in Miami.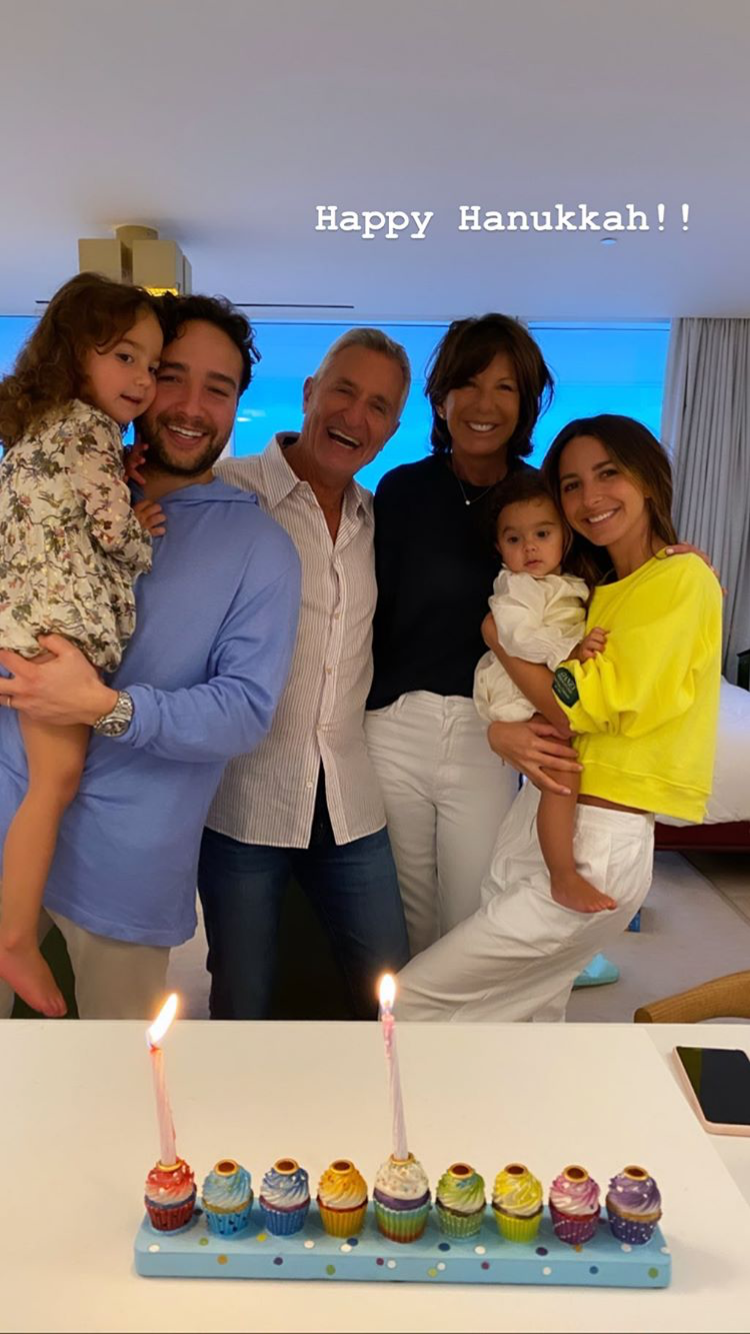 24. Another Jewish fashion designer and model Sofia Richie, 21, celebrated Hanukkah with dreidels, gelt, and candle lighting.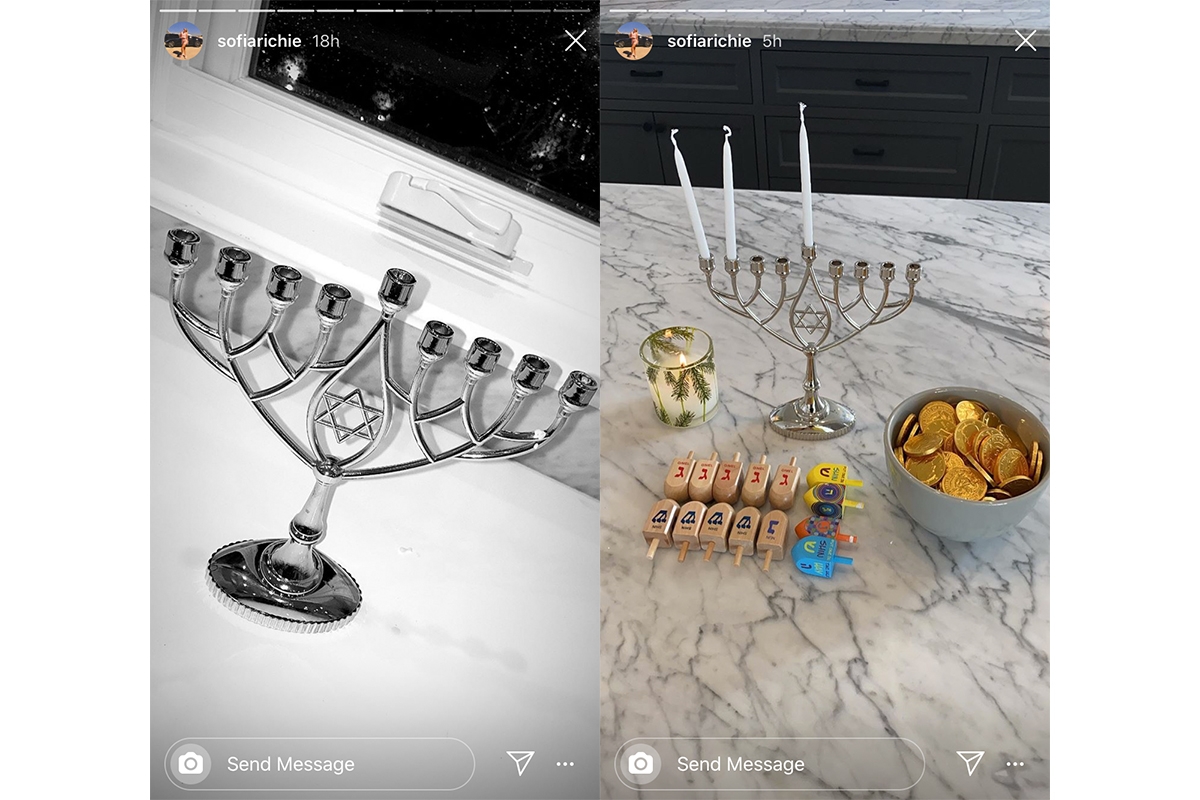 25. Richie's boyfriend Scott Disick wished his Instagram followers a Happy Hanukkah with a silly image.
26. Jewish mom, Orange Is the New Black star, and recent Call Your Mother guest Alysia Reiner celebrated Hanukkah with her family and dog Enzo.
26. New to the Jewish mom club, entrepreneur Audrey Gelman celebrated Hanukkah with a hearty plate of latkes.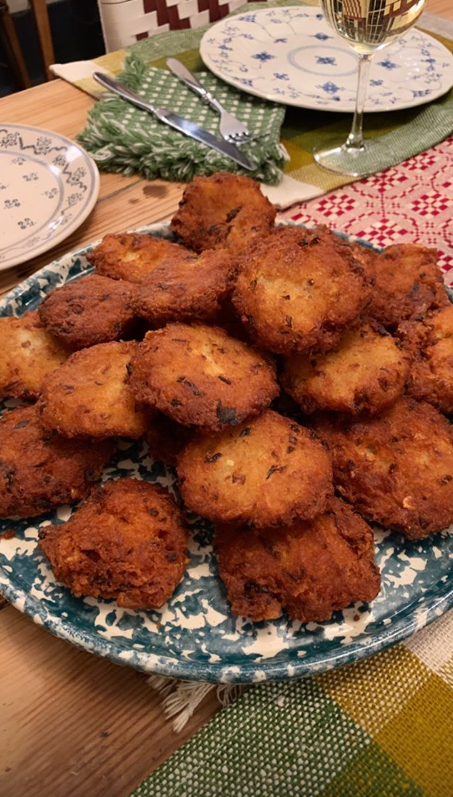 Image via Gabe Ginsberg/Contributor via Getty Images