I may have complicated feelings about Mother's Day, but there is one thing that I unreservedly love about it — the onslaught of pictures of celebs and their mothers. This year the Jewish celebrities of Instagram did not disappoint, with incredible tributes to their mothers (and children) that gave me a very needed dopamine high.
We couldn't keep these joy-inducing photos to ourselves, so we've rounded up some of our favorite Mother's Day pictures, from Babs to Haim (and a few pictures from years past). If you need a pick-me-up today, look no further than these awesome Mother's Day posts from our favorite Jewish celebrities:
Barbra Streisand and Jason Gould
For Mother's Day, Jewish diva Barbra Streisand shared a picture of her and her son, musician Jason Gould, writing that "nothing is better than being a mother!" This Jewish mother agrees, but would also argue that there is not much better than having Barbra Streisand as your mother.
If we're already on the subject of Babs and Jason, we're obsessed with this picture of the two of them from the "Hello Dolly" set:
Liev Schreiber:
This isn't a picture of Liev and his mom. It's just a picture of Liev's badass Jewish mom, artist Heather Milgram, who he once described as a "far-out Socialist Labor Party hippie bohemian freak who hung out with William Burroughs."
"My mother always talked about being Jewish and was very proud of being Jewish," Schreiber said in 2018.
Gal Gadot and her mom:
The "Wonder Woman" star posted an adorable picture with her mom (or rather, her ima) Irit, a former teacher. "I'm so lucky to have my mom by my side on this crazy journey, to give me strength, to share her knowledge, and to show me her endless love and support," Gadot wrote. "She is my rock and my comfort." These two are so friggin' cute!
Josh Gad:
Actor Josh Gad (or Olaf, as your children may know him) wrote about his Jewish mother, Susan, the daughter of Holocaust survivors this Mother's Day, thanking "the incredible woman who raised me as a single mother and gave me not only life, but a life worthy of my dreams. She encouraged, pushed and influenced me in a way that gave me the opportunity to achieve everything I put my mind to." What a mensch.
The Feldstein fam: Sharon Feldstein, Jonah Hill and Beanie Feldstein
Jewish mama Sharon Feldstein is the queen of kvelling about her talented and inspiring kids. She also cares for other people's kids as part of Your Mom Cares, an organization she co-founded with Adam Levine's mom, Patsy Noah, that helps raise awareness for kids' mental health. This Mother's Day, Sharon and her team urged their followers to share a picture of them kissing their mom.
Sharon, of course, did not skimp on the Mother's day photos. The stylist and mama shared a gorgeous slideshow of pictures of her mother, and her kids — Beanie, Jonah, and Jordan who passed away in 2017:
Jonah Hill dedicated his mother's day post to his mom and to his oldest brother's widow, Dana — "thank you both for being strong and beautiful and telling stories that truly never ever land," he captioned a photo of him with his mother, Dana and his two nephews.
"It only takes looking at this photo for a second to see the kind of house @sharonfeldstein raised us in," "Funny Girl" Beanie Feldstein wrote in a winning mother's day post, "one filled with music and theater and togetherness (and football!) she taught me EVERYTHING i know. happy mother's day, shay!"
Skylar Astin
Actor Skylar Astin ("Crazy Ex Girlfriend," "Pitch Perfect," "Zoey's Extraordinary Playlist") posted an adorable photo of him with his mom Meryl, writing "happy mother's day to the queen." I guess that makes him our favorite Jewish prince.
Joey King
The actress, who is about to star in an adaptation of the Jewish novel "We Were the Lucky Ones," posted an adorable picture of her with her Jewish mother, Jamie, on her Instagram stories, writing "happy mother's day to my beautiful mom, you amaze me everyday." So sweet.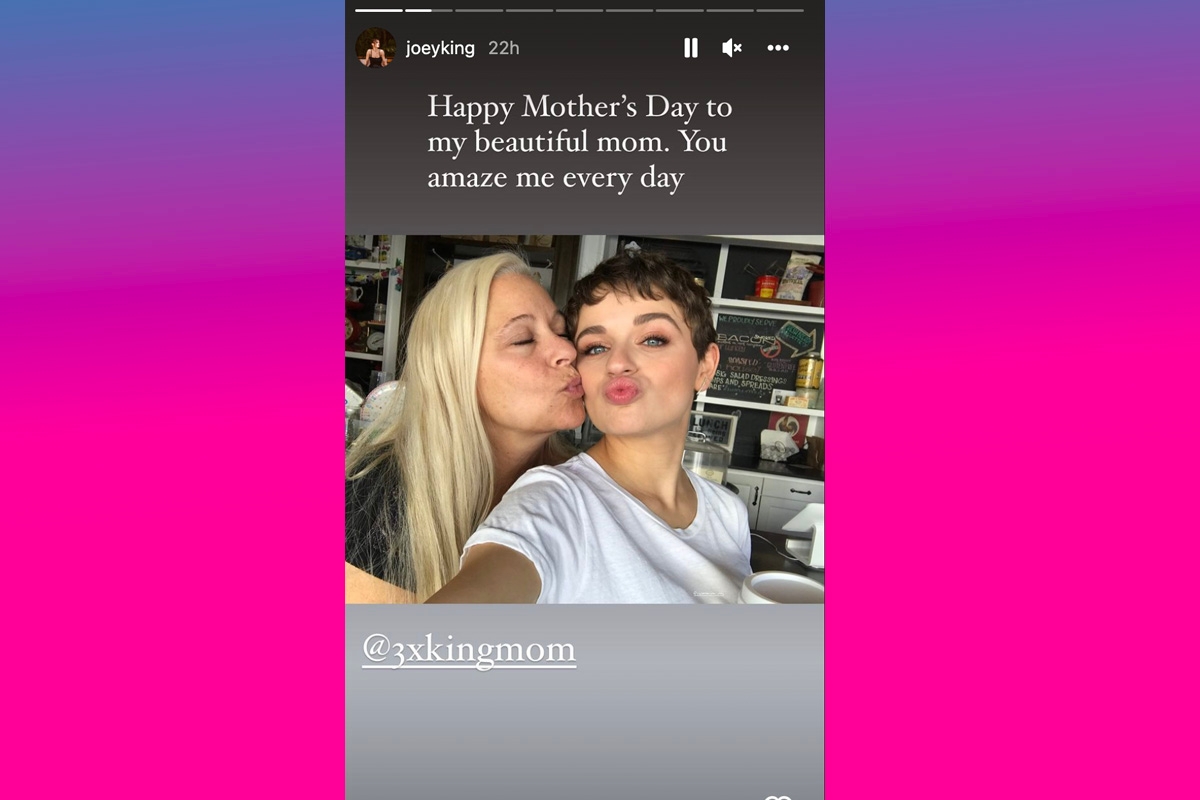 Abbi Jacobson
The "Broad City" and "League of Their Own" star posted this photo of her as a child and her mom writing that "she really lucked out," but honestly, her sharing this picture with us makes us feel just as lucky.
Nick Kroll
Back in 2021, new-ish Jewish dad Nick Kroll posted this picture of his mom, Lynn, for Mother's Day, thanking her and his sisters, Vanessa and Dana, for teaching him to appreciate "the magnificence and power of motherhood."
Haim
The most Jewish band of all time, Haim, posted a picture of their Jewish mom, Donna and the three of them for mother's day. It was thanks to Donna, an art teacher, that Alana Haim met director Paul Thomas Anderson, who cast her and the rest of the Haim family in his latest film, "Licorice Pizza."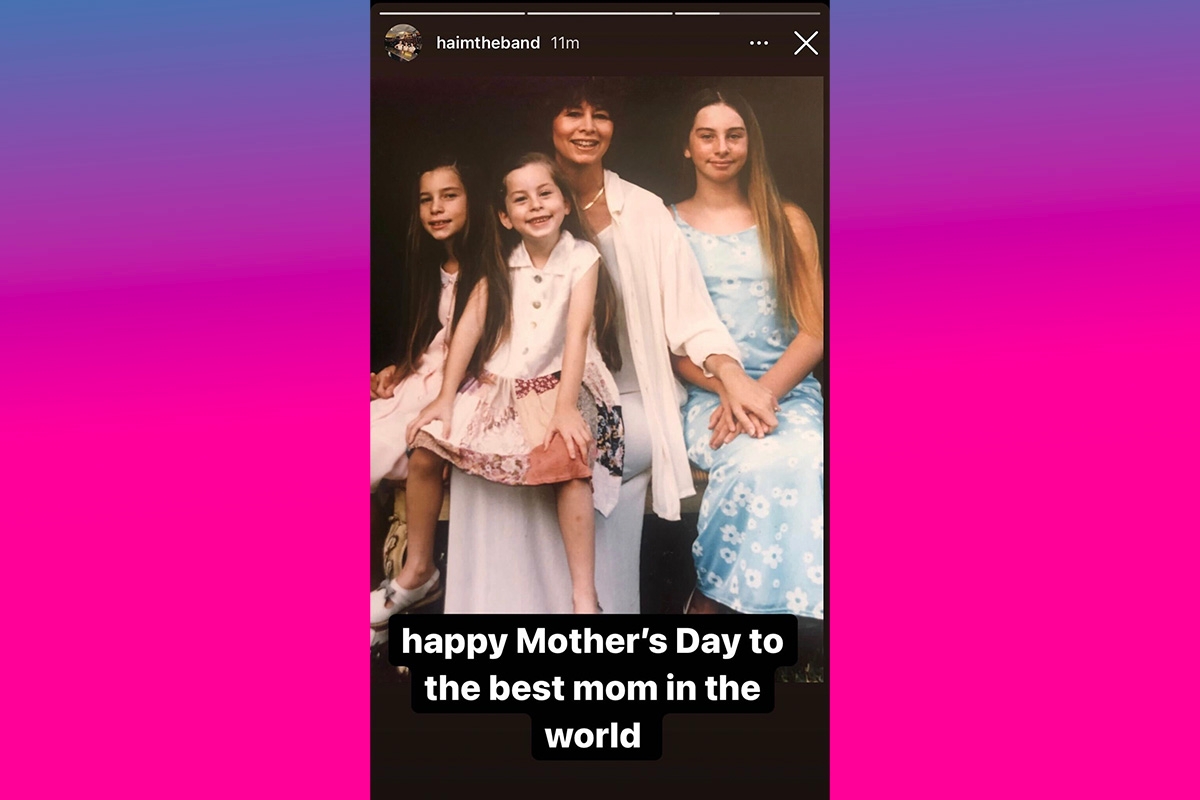 Rashida Jones 
Rashida Jones' mom, the amazing Jewish actress Peggy Lipton, passed away back in 2019. Last year, she posted this gorgeous photo of the two of them hugging. "Get one of these hugs from your mom today. I wish I still could," she wrote.
Andy Cohen
This year for Mother's day, Evelyn Cohen got a brand new granddaughter — Lucy Eve Cohen! Evelyn and Andy are one of our favorite Jewish mother son duos, and this picture of them after they reunited for the first time since the start of the pandemic is just so sweet. You can totally see the love, emotion and joy.
Doug Emhoff
Ahead of Mother's Day, Second Gentleman Doug Emhoff posted this great picture of him and his mom, Barb, wearing shades, thanking her for always being "there right when I needed her." These two truly have our hearts.
As we look ahead to Mother's Day, I'm thinking of the incredible strength of moms, stepmoms, and all mom-figures – especially my mom, who has always been there right when I needed her. pic.twitter.com/NACa628ftO

— Douglas Emhoff (@SecondGentleman) May 7, 2022
Adam Levine
Adam Levine spent Mother's Day this year in Israel, where he and his band Maroon 5 visited the Western Wall and preformed to an enraptured audience in Tel Aviv. In the meantime, his mother posted this cute picture of the singer giving her a very sweet smooch, as part of Your Mom Cares' "Kiss Campaign." "When your kid is half a world away…" she captioned it.
Kate Hudson
Hudson posted this super cute picture of her as a child being held by Jewish mama Goldie Hawn and captioned it "my everything." These two are everything.
Drake
For Mother's Day, Drake posted a picture of his Jewish mom, Sandy, to advertise his new candle line… Which… Ok? While I'm always happy to get new pictures of Sandy, I feel like this one of her and Drake as a kid just hit the spot:
Ben Schwartz
The Jewish actor and comedian, who recently starred in the excellent "The After Party," posted this picture of his Jewish mom as a kid, captioning it: "happy mother's day to all moms but especially my Bronx born & raised, kind, loving, wonderful Jewish mommy who fills whatever room she is in with light & joy."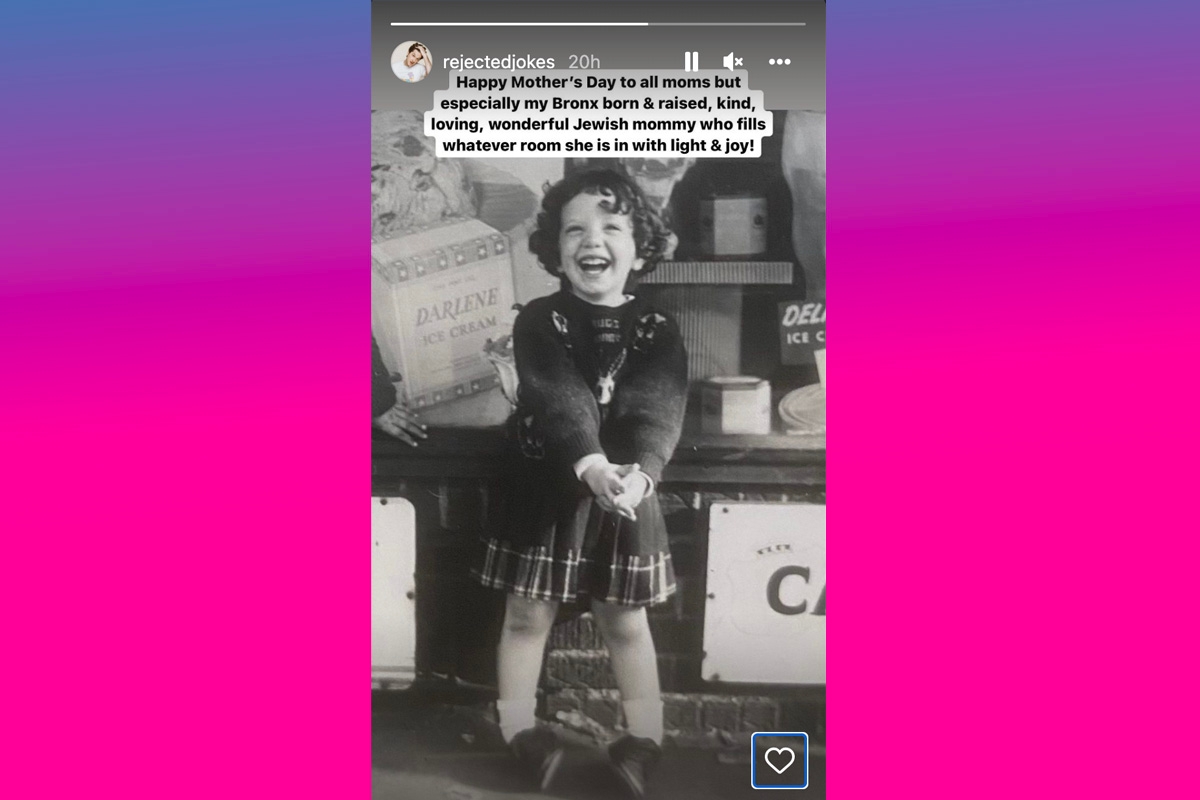 Here's a very sweet pic of the two of them together: