Since the start of the Covid-19 pandemic, many of us have found creative ways to cope with new realities, from creating makeshift summer camps to hosting Jewish lifecycle events on Zoom.
While some lockdown circumstances call for novel solutions, other moments can benefit from the wisdom of tradition. For centuries, the Jewish people have endured strife and oppression — all with the knowledge that every week eventually comes to an end, and a new one will follow.
Jews observe Shabbat for many reasons. We value quality time together with our loved ones. We seek time to reflect. We take a pause from the stress of the work week. And we acknowledge our resilience.
These values have been shared by the Jewish people for centuries, and Jewish families and communities have adopted a variety of practices to honor Shabbat, from saying the traditional prayers to sharing a meal to simply spending some quality time together.
Just like the rest of us, Jewish celebrities honor Shabbat in a variety of ways. As inspo for your family's next Shabbat, here are the ways some of our favorite Jewish celebrities celebrate.
1. Mila Kunis
Jewish mom and actress Mila Kunis and her husband, Ashton Kutcher, have long been proponents of the glory of Shabbat. The couple, along with their two kids, Wyatt and Dmitri, focus on spending time together on Shabbat, by eating dinner as a family and reflecting on their past week.
Kunis says, "I love the idea of — regardless of where we are in the world, regardless of what we're doing, on Friday night, we take a minute to just acknowledge one another." The family says the Shabbat blessings together in Hebrew — quickly, she adds, as her kids have "the attention spans of gnats." Kunis, who was born in Ukraine and moved to the U.S. when she was 7, was raised within Jewish culture, while Kutcher connects more with spiritual Judaism. Shabbat is where their interests find a "happy medium."
2. Natalie Portman
Superstar Jewish mom Natalie Portman loves Shabbat for its magical ability to bring us into the present. "Shabbat has the ability to stop time," she says. "The reason why we are prohibited from moving objects on Shabbat, turning on lights, or shopping, is because these acts indicate the passage of time. But Shabbat is the day when we can stop time."
Portman makes use of this "stoppage" to spend some QT with her family. "As a parent, time flies by. We can't stand it when people tell us, 'Pay attention to them, because before you know it, they will leave your house.' We have always been told that, and now we are the one's saying it. It is awful! We have matured! But it's true! That is why Shabbat is a wonderful idea that I'm trying to keep."
3. Mayim Bialik
Mayim Bialik uses Shabbat to unplug and truly rest. She turns off her phone for 25 hours, and she also tries to go to bed at the same time as her kids. Bialik also seeks to make the day special for her boys, letting them eat lots of challah and drink grape juice to their hearts' content.
In the true spirit of Judaism, Bialik humbly remarks that she is "still working on the best way to implement a Shabbat experience" for her family, but keeps the values of being fully present. She offers: "Shabbat is an island of stillness in a week of frenetic movement, a respite in the madness of our culture's obsession with consuming, creating, spending, making, and doing. Shabbat is a day of simply, gloriously, and beautifully just being. We are, after all, human beings, not human doings."
4. Troye Sivan
For Jewish pop artist Troye Sivan, Shabbat is an opportunity for relaxing with family and friends, sans technology. Born in a South African conservative Orthodox family, Sivan reflects in a Twitter thread, "I'm not a religious person, but modern Jewish culture is so lovely sometimes. Shabbat dinner is where we get together as a fam w no phones/ no TV, & just hang with us and family friends, every Friday night! Some of my best memories are from nights like these." Though he connects less with Shabbat prayers, "getting the family together and not turning on our phones for a Friday night is something I really cherish." Absolutely, Troye!
I'm not a religious person, but modern Jewish culture is so lovely sometimes. Shabbat dinner is where we get together as a fam w no phones,

— troye (@troyesivan) June 19, 2015
5. Ben Platt
Broadway star Ben Platt believes that honoring Shabbat has helped his career, saying the "Jewish experience — to share feelings, thoughts" improved his skills to communicate and connect. As a profile in Breaking Matzo says: "Shabbat dinners encourage everyone to speak and share, doing so regularly helped Platt to develop his incredibly expressive and emotional range as an actor.'"
But that's not all: Platt recently made challah on with his Jewish boyfriend Noah Galvin. Although Platt's Judaism may not be the direct reason he makes us cry with every high note in "You Will Be Found," we love this humble credit to his Jewish culture.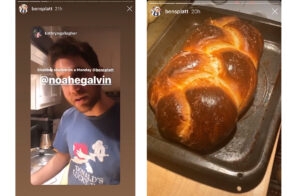 6. Alex Borstein
The Marvelous Mrs. Maisel star Alex Borstein has shown off her Jewish-motherness many times this quarantine, including making her own challah and bingeing the Israeli show Shtisel.
As Maisel season 3 began last December, she reminded us how important the tradition of Shabbat is to her family. "We do Shabbat every Friday night. I'm not [someone] that goes to temple all the time — I'm a High Holidays temple goer, and that's about it. But there are traditions. Having a mother and a grandmother who are Holocaust survivors, I feel a large responsibility to continue that culture and those traditions — not necessarily the dogma, but what it feels like to be Jewish. I want to instill that in my kids".
Plus, on at least one Shabbat, she served her kids egg creams in a kiddush cup!
7. Gal Gadot
Israeli Wonder Woman star Gal Gadot celebrates Shabbat by lighting candles with her children and saying prayers for those in need. Past images include Gadot praying for Israeli soldiers during the 2014 conflict: "I am sending my love and prayers to my fellow Israeli citizens," she captioned a Facebook post that showed the actress and her daughter covering their eyes before lit Shabbat candles. "Especially to all the boys and girls who are risking their lives protecting my country against the horrific acts conducted by Hamas, who are hiding like cowards behind women and children…We shall overcome!!! Shabbat Shalom!"
8. Paula Abdul
Singer, dancer, and former American Idol judge Paula Abdul celebrates Shabbat by appreciating the shalom — the peace — that the holiday brings. Abdul said in a promotional video for the Shabbos Project, a 2014 initiative to inspire Jews to celebrate Shabbat together, that Shabbat "is very important to me because it's my time to be just me — no paparazzi, no invasion of my privacy. I can always look forward to the end of the week and say, 'Thank God I have [Shabbat]."
True, the non-celebrities among us may relate less to paparazzi intrusions, relinquishing the pressure to post on social media or follow others' latest updates are easy ways to enjoy some private time over Shabbat's 25-hour period.
9. Emmy Rossum
Shameless star Emmy Rossum has found new significance in Shabbat since the start of the pandemic. While Rossum has stated in the past that her mother instilled in her a "Jewish code of ethics and morals," she acknowledges a lack of regular ritual in her life. On March 20, Rossum tweeted "I don't usually pray but I'm gonna Shabbat it UPPPPP on this Friday night." Shabbat really comes through when we need it, even if we didn't see it at first!
I don't usually pray but I'm gonna Shabbat it UPPPPP on this Friday night.

— Emmy Rossum (@emmyrossum) March 20, 2020
10. Natasha Lyonne
Russian Doll star Natasha Lyonne grew up in an observant household, celebrating Shabbat every week and turning off all electronics. For Lyonne, this limitation spurred a love for books, as she became an avid reader in her childhood.
11. Hari Nef
From her past Instagram posts, we see that trans Jewish model Hari Nef celebrates Shabbat with her family and close friends, including Troye Sivan and Adam Eli. Apropos of the mannequin challenge trend, members of the group posed frozen in place while baking challah, covering their eyes for Shabbat prayers, and holding kiddush cups while Nef posed with her hair covered, lighting the Shabbat candles.
12. Shira Haas
For Shira Haas, star of Israeli TV show Shtisel and the recent hit miniseries Unorthodox, Shabbat is an opportunity to see her family on a weekly basis. "Family to me is very important," Haas says. "I see mine every Friday at Shabbat dinners, and my grandmother is my number one person who I've missed terribly during this lockdown." Also, recently she wished fans "Shabbat Shalom" as she showed off the script for Shtisel's third season. A very good Shabbos, indeed!
13. Nissim Black
African American Hasidic rapper Nissim Black tells us how he celebrates Shabbat in his 2017 hit "Best of All Days" with Avi Kraus. Like many other celebs, he enjoys time with his family without the burden of technology. He sings: "Shabbat shalom/ my wife my home/ these lights they glow/ no strife no phone."
He also notes that he appreciates Shabbat's opportunity for prayer and gratitude: "The fire it burns/ inside we yearn/ for the ultimate day that we can turn away from the pain that pains us we trust/ this is the day of faith, this is the day he gave … our gladness should know no limits/ it doesn't even matter where we are cuz we're keeping it together with love no ending." Love it!